BDS movement has called to boycott Pillsbury Company, which manufactures frozen baked goods in a factory in Atarot Industrial Zone, an illegal Israeli settlement in the occupied Palestinian territory.
Bake for Palestinian rights! Join our No Dough for the Occupation campaign to hold @Pillsbury and parent company @GeneralMills accountable until they stop manufacturing on stolen Palestinian land! Share your own photos with the hashtag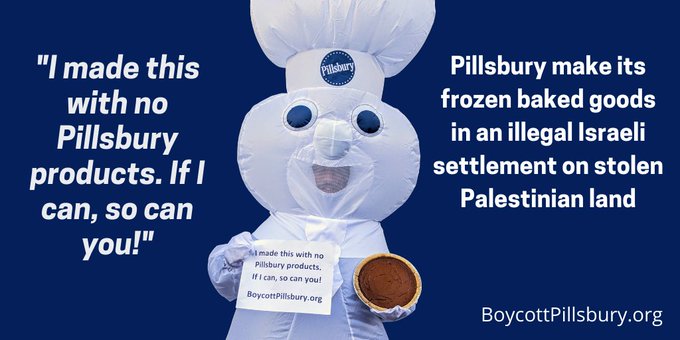 #BoycottPillsburyhttp://BoycottPillsbury.org
On February 12, 2020, the UN High Commissioner for Human Rights published a list of companies that have been involved in Israel's illegal settlement activities in occupied Palestinian territories, which considered illegal under international law.
The list of 112 companies includes major multinational corporations such as Airbnb, Motorola Solutions and JCB, and General Mills.
The activities related to illegal Israeli settlements included, as the UN report issued:
•Supplying equipment and materials facilitating the construction and expansion of settlements and Israel's West Bank barrier.
•Supplying equipment for the demolition of housing and property, and the destruction of farms, greenhouses, olive groves and crops
Providing services and utilities supporting the maintenance and existence of settlements, including transport.
•Banking and financial operations helping to develop, expand or maintain settlements and their activities, including loans for housing and businesses.
The Palestinians said the report was a "victory for international law", but the occupation state called it "shameful".
Pillsbury Company included in the list
General Mills is a multinational food conglomerate headquartered in Minneapolis, Minnesota. It has been described as one of ten companies that "control almost every large food and beverage brand in the world." The company owns more than 100 brands.
General Mills bought the Pillsbury Company in 2001 and has owned the Pillsbury brand ever since.
However, Pillsbury manufactures frozen baked goods in a factory in Atarot Industrial Zone, an illegal Israeli settlement in the occupied Palestinian territory, violating international law and contributing to gross human rights abuses.
The factory is owned by Israeli company Shalgal (Food) Ltd and is used exclusively to make Pillsbury products as the Israeli licensee of Pillsbury.
The factory started manufacturing Pillsbury products for General Mills in 2002, and was expanded that year using $2 million of Israeli government money.
Here's why you should boycott Pillsbury
Atarot Industrial Zone is located north of Jerusalem and is part of the area of the West Bank known as "East Jerusalem," which Israeli occupation illegally annexed during the 1967 war.
The Pillsbury factory was built on land that belongs to Beit Hanina, a Palestinian town that Israeli occupation made into a neighborhood of Jerusalem and later split into two by the apartheid wall.
Illegal under international law, these settlements are built on confiscated Palestinian land and have been used to justify forcing Palestinians out of their homes; restricting their movement; severely limiting Palestinian access to basic resources, including land and water; and perpetuating a system of segregation and inequality between Palestinians and Israelis.
They also violate Fourth Geneva Convention, which prohibits the move of populations into an area occupied by force, to prevent more wars of expansion.
Pillsbury and the other companies directly contribute to the settlement economy and help perpetuate this system of control and expropriation in denial of Palestinians' basic rights.
(Source / 14.12.2020)