Occupied Palestine (QNN) – Israeli occupation forces on Friday attacked the crowd of mourners who carried the casket of veteran Palestinian journalist Shireen Abu Akleh.
Local sources reported that dozens of fully armed Israeli forces broke into the Saint Joseph Hospital and attacked the mourners who carried the body of journalist Shireen Abu Akleh.
Israeli occupation forces attack the funeral of martyr Shireen Abu Aqleh outside the French Hospital in occupied Jerusalem.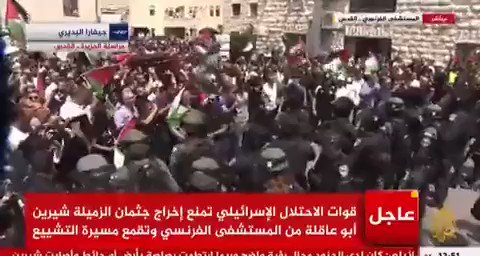 The sources added that the Israeli forces fired tear gas canisters and sound grenades towards the crowds of people participating in the funeral procession of Abu Akleh.
They indicated that the Israeli occupation police prevented the crowds of people from carrying the casket of Abu Akleh on their hands and insisted on putting it in a funeral vehicle.
In addition, the sources added that the occupation police also prevented the brother of Abu Akleh from accompanying her body in the funeral vehicle.
(Source / 13.05.2022)