Hundreds of social media users have been reporting social media websites for deleting their posts, shutting down their personal accounts and censoring content about Israeli forces and settlers attacking Palestinians in the Sheikh Jarrah neighbourhood in occupied East Jerusalem.
The social media users from Palestine and around the world have uploaded and shared videos and images about Israeli forces and settlers attacks, using the hashtag #SaveSheikhJarrah, in both English and Arabic.
However, social media websites, including Twitter, Facebook, and Instagram, have censored, limited, and shut down their accounts, silencing their voices while they are fighting against the occupation.
Hundreds of users are reporting @instagram deleted their posts about Sheikh Jarrah, where Israeli settlers and soldiers have been terrorizing Palestinians resisting imminent home theft and expulsion. Are you one of these users? Write to us! Instructions below.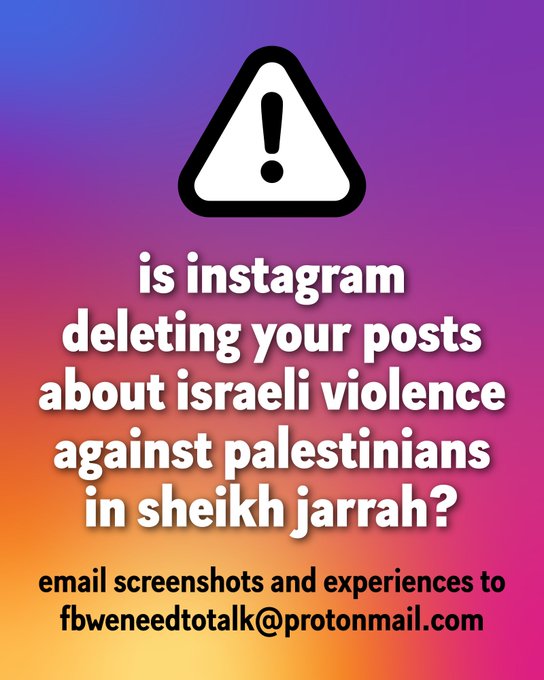 Instagram is deleting Palestinian activists' stories on the ethnic cleansing happening in Sheikh Jarrah. This is not a conspiracy, this is not a fluke. Social media companies have been & will always be antithetical to revolution & resistance. #SaveSheikhJarrah

Sada Social, a Palestinian digital rights organisation, condemned Twitter's administration for shutting down the activists' accounts, saying it considers this a "punishment for activists and collusion between the Twitter administration and the Israeli security services, in order to reduce interaction with the Sheikh Jarrah cause."
Sada Social also called for the need to reactivate the suspended accounts and provide a free space for all website users to express their views without discrimination.
Another hashtag, Al-Aqsa in Arabic, has also been hidden by Instagram, because, as it claims, the "content may not meet Instagram's Community Guidelines."
The hashtag was used to cover the settlers and forces' violence and attacks against the Palestinians in al-Aqsa mosque courtyards while they were praying.
Palestinians are no strangers to such restrictions on social media.
For years, American apps, including Facebook, Twitter, and WhatsApp, have been deleting and deactivating the accounts of Palestinians in coordination with the Israeli government and security agencies, on the pretext of preventing Palestinian "incitement and hate speech" on its platform, stifling the Palestinian voices.
On May 2020, Facebook deleted the accounts of more than 50 Palestinian journalists and activists, saying their accounts had been deactivated for "not following our Community Standards," according to Sada Social.
Sada Social said it documented 38 violations against Palestinian content in April 2021 only.
Since the start of 2021, 50 violations against freedom of the press, as Facebook either blocked Palestinian publications or closed accounts of journalists and activists under feeble excuses, said the Palestinian Journalists Syndicate (PJS).
(Source / 08.05.2021)