Gaza Strip (QNN)- Hundreds of Palestinian refugees held several protests today outside the supply offices of the UN Relief and Works Agency for Palestine Refugees in the Near East (UNRWA), protesting against its decision to cancel poverty classifications and the resulting significant reduction in food aid to people with limited income.
Angry #Palestinian refugees hold a vigil outside the UNRWA office in Khan Younis, south of the #Gaza Strip, in protest of the UN agency's downsizing of regular food aid to the Palestinian refugees, today.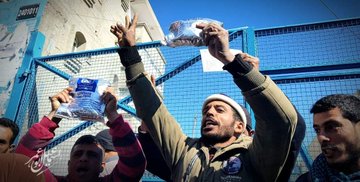 The protests came at the call of the Refugee Affairs Department of the Palestine Liberation Organization (PLO) and its popular committees in the refugee camps.
The protests also were attended by representatives of the national action factions, associations, and effective community institutions and leaders in the eight camps of the Gaza Strip, expressing their rejection of UNRWA's decision to impose cuts on its services.
The protesters shouted angry slogans against UNRWA's decision to reduce aid to the refugees by cancelling poverty classifications and unifying the coupon.
Angry protesters carried empty bags of flour and milk and knocked pots at the sit-ins, in a message of frustration over the downsizing in food aid.
The popular committees demanded UNRWA in their unified speech to cancel the unified one-coupon system and reintroduce the two-coupon system, in a move to redress the Palestinian refugees classified under the extreme poverty line, whose number is estimated at 770,000 refugees.
The UN body supports more than 5 million Palestinian refugees. However, in 2018, the Trump administration had cut financial aid to it and also slashed an aid of more than $200 million to Palestine in the same year.
Also, the UAE have massively cut back funding for the UN agency, following the Palestinians' condemnation of the normalization deals between the United Arab Emirates and Bahrain and 'Israel'.
The Center for Near East Policy Research, an Israeli NGO, said that while the UAE sent the United Nations Relief and Works Agency (UNRWA) $53 million in 2018 and $51 million in 2019, it provided the agency a mere $1 million in 2020, as the UNRWA confirmed the data to Channel 12.
Last week, UNRWA called for US$1.5 billion to fund its essential services, emergency appeals and priority projects for registered Palestine refugees in the West Bank (including East Jerusalem), Gaza, Jordan, Lebanon and Syria.
Of the required US$1.5 billion, US$806 million are needed for core services, such as education, health, relief and social services, protection and infrastructure and camp improvement.
Emergency humanitarian assistance that UNRWA provides in response to the devastating effects of blockade and occupation in the occupied Palestinian territory (oPt) requires US$231 million.
(Source / 21.02.2021)