Days of Palestine – Gaza – Israeli occupation warplanes attacked several posts belonging to the Palestinian resistance Friday night, according to local sources.
They said that an Israeli occupation drone attacked a post eastern of Deir Al-Balah in the middle of the Gaza Strip.
Read More: Israeli artillery attacks resistance posts in Gaza Strip
Meanwhile, Israeli warplanes attacked another post eastern of Jabalia in the north of Gaza Strip.
Fortunately, no injures reported.
Read More: Israeli thugs attack Palestinian man in the occupied Hebron
A few hours ago, Hebrew media claimed that a missile was fired from Gaza toward an illegal Israeli open land near the Gaza border.Days of Palestine@DaysofPalestine
Photos of the recent Israeli airstrikes on Khan Yunis, this night. #GazaUnderAttack
١٩المعلومات والخصوصية لإعلانات تويتر٢٥ من الأشخاص يتحدثون عن ذلك
11:30 PM (Gaza Time): Israeli occupation warplanes attacked a Palestinian post belonging to resistance in KhanYounis city south of the Gaza Strip.أحمد محمد النجار@ahmed99najjar
القصف على شمال مدينة خان يونس قبل قليل


#غزه_تحت_القصف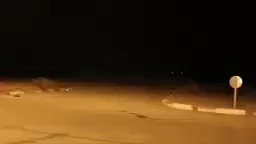 ٢٠المعلومات والخصوصية لإعلانات تويترمشاهدة تغريدات أحمد محمد النجار الأخرى
A video released by local media documenting the moment of the attack:
According to local sources, the Israeli warplanes bombing in KhanYounis city caused damages to citizens homes, but no injuries.
(Source / 27.06.2020)