Gaza (QNN)- The Coronavirus crisis came at a time where the Gaza Strip has been living under a 14-year blockade, and today the Palestinians are facing this crisis in the presence of severe shortages of essential medicines and consumables.
Palestinian and international activists and supporters of the Palestinian cause launched a campaign using the hashtag #EndGazaBlockade, demanding US Congress representatives to pressurize the occupation authorities to end the suffocating siege that affected all humanitarian aspects of 2 million people.
The activists called on US Congress representatives to be sensitized on the urgency to lift the 14-year long blockade imposed by 'Israel' on Gaza by air, land and sea. They also insisted on the non-antisemitic nature of their request.
The activists stated that It is time for the American Congress to play its full part in finally ending the horrific siege imposed on Palestinians living in the Gaza strip by putting pressure on 'Israel' in order to free the Strip from its grip.Ruba@Ruba8514
The blockade of the Gaza Strip is an immoral and inhuman blockade that contradicts all principles of international law, the Fourth Geneva Convention and the Universal Declaration of Human Rights.#EndGazaBlockade #Act4Palestine29Twitter Ads info and privacy

#FreePalestine



@Free_Pales2020 ·
The US gives Israel $3.8 billion in military aid every year. Israel is using the aid to entrench its military occupation, apartheid regime and Gaza blockade.

Tweet to US Congress to demand #EndGazaBlockade before more life is needlessly lost.
#EndGazaBlockade
American taxpayers fund Israeli genocide.
A despicable policy which basically ensures a lengthy occupation of Palestine.


19Twitter Ads info and privacySandy.@Sandy91526934
The close relationship between Israel and the US brings a question if the US turns a blind eye to the 13-year long Israeli siege of Gaza.

Tweet with #EndGazaBlockade and ask US representatives to pressure Israel to lift its blockade before an unprecedented catastrophe happens.
10Twitter Ads info and privacyjordan@jordan81495896
End Gaza Blockade, end apartheid. Free the people of Palestine from the fascist leader Benjamin Netanyahu. The occupation is real & illegal. Stand on the side of hope and justice


#EndGazaBlockade #FreePalestine #FreeGaza #Spreadsolitarily @BDSmovement @IfNotNowOrg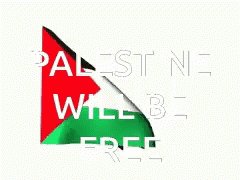 8Twitter Ads info and privacyFreedom Flotilla@GazaFFlotilla
Thanks to everyone who documents ongoing #HumanRights violations of #Israeli govt against #Palestinian people, inc this excellent compilation. Let's move beyond condemnation, to enforcement. #justicematters #Standup4HumanRights #WarCrimes #EndGazaBlockade https://www.un.org/unispal/wp-content/uploads/2020/04/2019E-Annual-compilation-of-UN-resolutionsFinal-1.pdf … https://twitter.com/UNISPAL/status/1255232620025319426 …UN CEIRPP ✔@UNISPAL
The Compilation of @UN Resolutions and Decisions Adopted in 2019 on the question of #Palestine is available on @unispal in #English and #French

Here: https://www.un.org/unispal/document/compilation-of-un-resolutions-and-decisions-adopted-in-2019-dpr-publication-a-ac-183-l-2-add-41/ …#rights4palestine, #tuesdayvibes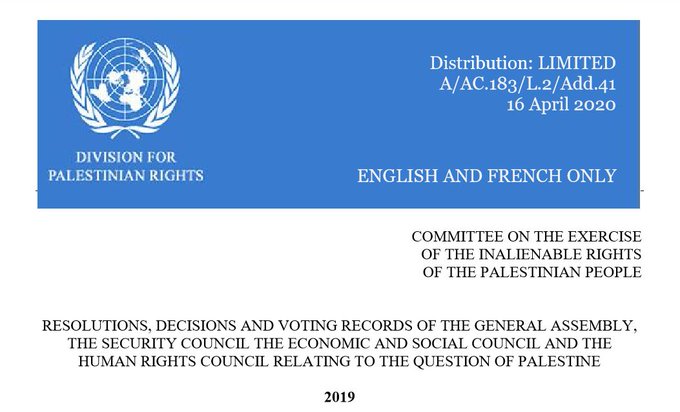 11Twitter Ads info and privacy(Source / 08.05.2020)