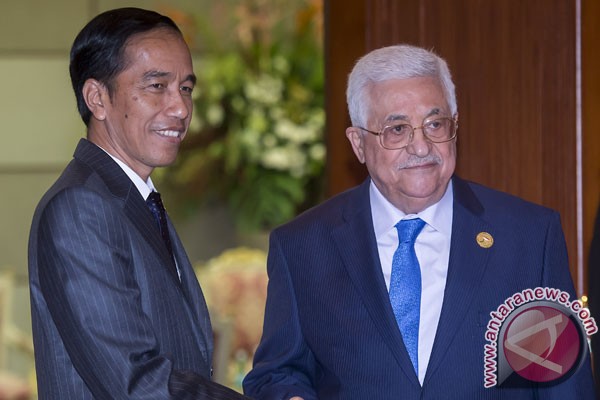 President Joko Widodo (left) shakes hands with Palestinian President Mahmoud Abbas (right) during a bilateral meeting on the sideline of the OIC Extraordinary Summit in Jakarta, Sunday (6/3)
Jakarta (ANTARA News) – Palestinian President Mahmoud Abbas has called for international support to protect the interests of Palestine and end the more than seven decades long Israeli occupation.
"Our people need international support and protection to free ourselves from oppression by Israel, a country that has violated international laws and human rights the most," Abbas said while speaking at the Fifth Extraordinary Summit of the Organization of Islamic Cooperation (OIC) here on Monday.
The Israeli aggression and cruelties in Al Quds (Jerusalem), the holy place for Muslims, Christians and Jews, has made Palestinians suffer as many of their homes were demolished by Israeli occupying force.
Israel also practiced economic imperialism against both Palestinian Muslims and Christians by imposing taxes that were too high and impeding investment potential.
Palestine is facing major challenges as every effort for a peaceful negotiation with Israel always fails, he added.
Abbas expressed his hope that the summit could yield concrete results to protect Al Quds and deliver the rights of the Palestinian people to live freely and independently like other nations in the world.
President Joko Widodo (Jokowi) chaired the Summit on Palestine and Al-Quds Al-Sharif (Jerusalem), which is expected to produce two documents: a Resolution and the Jakarta Declaration.
President Jokowi expressed Indonesias readiness to help the process of Palestinian national reconciliation.
"Indonesia is ready to help in this reconciliation process," the head of state said, addressing the Summits participants.
He expressed his concern over the deteriorating situation in Palestine.
Many unilateral and illegal actions as well as collective punishment imposed by Israel inflicted suffering upon the Palestinian people, he noted.
The Indonesian president also criticized the move to restrict access to Al Aqsa Mosque in Jerusalem.
Held on March 6-7, the extraordinary meetings theme was "United for a Just Solution."
Over 500 delegates from 49 member countries of the OIC, two observer countries, five representatives of the UN Security Councils permanent members, and a UN special envoy to the Quartet on the Middle East, are attending the summit.(*)
(Source / 07.03.2016)