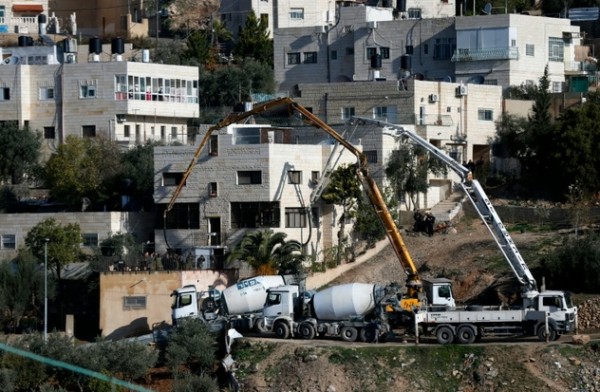 Israeli authorities Monday filled with cement the homes of two Palestinians who were fatally shot by Israeli troops, after they reportedly carried out attacks on Israeli targets in the beginning of the current unrest in October 2015.
WAFA correspondent said a large police contingent stormed Jabal al-Mukabir neighborhood in Jerusalem and cordoned off the homes of Alaa Abu-Jamal and Bahaa Elayyan, before they proceeded to fill them with cement to make them uninhabitable as a form of collective punishment.
Israel accuses both Abu-Jamal of running over and stabbing Israeli passengers in Jerusalem in October 2015.
Abu-Jamal's father told WAFA he has been assaulted by Israeli police as they stormed his house. He said the police destroyed all furniture inside the house before they proceeded to demolish some of its walls and pour cement inside.
The father also said his family received a notification from the Israeli authorities regarding demolishing the house of Safa Abu-Jamal, Abu-Jamal's sister, claiming that the house is originally owned by Abu-Jamal.
He said Israeli police rejected a plea by the family that the house belongs to Safaa, not Abu-Jamal.
Israeli police also stormed the house of Bahaa Elayyan – who Israel also accuses of partaking in an attack on Israeli passengers onboard a bus in the city in October 2015 – and forced all residents out of it prior to being poured with cement.
Elayyan's house occupies an area of 130 square meters, and shelters eight members of his family.
B'Tselem, an Israeli human rights group, says: "The people who bear the brunt of the [punitive] demolitions are relatives – including women, the elderly, and children – whom Israel does not suspect of involvement in any offense."
"In the vast majority of cases, the person whose actions prompted the demolition was not even living in the house at the time of the demolition," added the group.
"The official objective of the house demolition policy is deterrence… yet the deterrent effect of house demolitions has never been proven."
It said that, "Since this constitutes deliberate harm to innocents, it is clear that even if house demolition had the desired deterrent effect, it would, nevertheless, remain unlawful."
Amnesty International, argued that, the Israeli authorities' claim that such demolitions are effective in dissuading potential attackers "is entirely irrelevant in the eyes of International humanitarian law, which places clear limits on the actions which an occupying power may take in the name of security, and the absolute prohibition on collective punishment is one of the most important of these rules."
"Collective punishment is never permissible under any circumstances."
(Source / 09.01.2016)