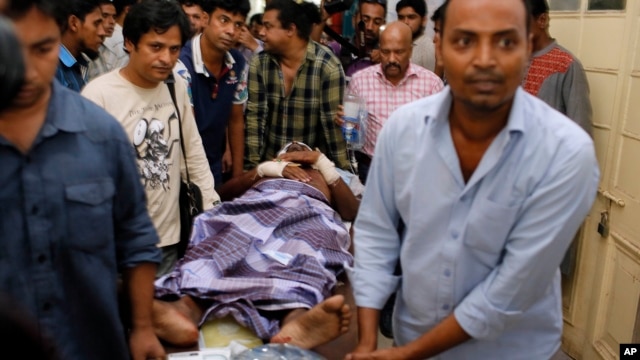 Іnjured publisher Ahmed Rahim Tutul is carried on a stretcher to the Dhaka Medical College Hospital in Dhaka, Bangladesh, Oct. 31, 2015
Police in Bangladesh say they are investigating a local radical Islamist group in the latest deadly attacks on two publishers in the capital, Dhaka.
Senior police officials say they suspect the banned group Ansaullah Bangla Team (ABT) carried out Saturday's attacks.
But another militant group, al-Qaida in the Indian Subcontinent, also claimed responsibility.
Publisher Ahmed Rahim Tutul and two writers were shot and stabbed by three men in their office at the Shudhdhoswar publishing house Saturday in Dhaka.  All three were hospitalized, and Tutul was in critical condition, police said.
In a second attack, publisher Faisal Arefin Deepan, of the Jagriti Prokashoni publishing house, was found hacked to death in his office.
Both of the publishers involved had published works by Bangladeshi-American blogger and writer Avijit Roy, who was killed in an attack on the Dhaka University campus while walking with his wife in February.  ABT had claimed responsibility for the blogger's killing.
Dozens of teachers, students, writers and protesters rallied Sunday at Dhaka University to protest the attacks.
Bangladeshi youth shout slogans as they protest the killing of Faisal Arefin Deepan, a publisher of secular books, in Dhaka, Bangladesh, Nov. 1, 2015
The latest attacks come amid fears about the rise of extremist Islamic groups in Bangladesh.  At least four atheist bloggers have been murdered in the country this year.
(Source / 01.11.2015)