Coalition air strikes slow in Syria; Iranian deaths in Syria on the rise
As US-led coalition forces have slowed down in their air strikes in Syria, the Obama administration is considering moving US troops closer to the front lines in Syria and Iraq, reported The Washington Post on Monday.
According to the report, the recommendations, which come at US President Barack Obama request and still need his formal approval, a limited number of Special Operation forces would be put on the ground in Syria and advisers would be sent closer to the frontlines in Iraq.
The newly recommended Special Operations forces in Syria would reportedly work with moderate Syrian rebels and Kurdish groups like the YPG to help retake Raqqa, the de-facto capital of the Islamic State, backed by American air power.
The advisers in Iraq would help with the Iraqi army with specific operations, such as retaking the key city of Ramadi, seized by IS this past spring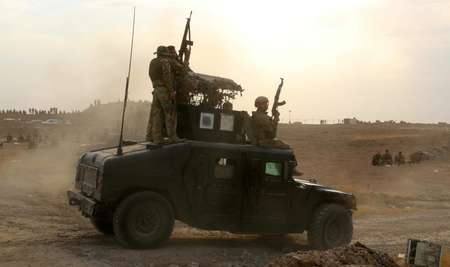 "Iraqi Kurdish Peshmerga fighters drive their military vehicle after they reportedly captured several villages from Islamic State (IS) group jihadists on the outskirts of the northern Iraqi oil capital of Kirkuk on September 30, 2015"
While the recommendations would put a US troops on the ground in Syria for the first time since the beginning of the US-led coalition against IS last year, the US has already carried out raids in Syria with small Special Operations teams several times.
Last week, elite Kurdish forces supported by US Delta Force fighters freed about 70 people who were being held by IS near the Iraqi city of Hawijah. The rare operation, which bore similarities with a raid against a top IS financier in Syria in May, resulted in the first death of a US serviceman since 2011.
While the troops would not be in a direct combat role, they reflect a major shift by Obama and the Pentagon who fear that the battle against Islamic State militants has largely reached a dead-end.
While Washington has declined to comment on the report, a US official, quoted by The Washington Post said that Obama could make a decision on the recommendations as soon as this week.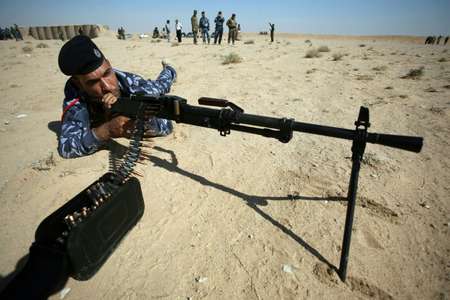 "Iraqi police take part in a training session in Najaf on October 11, 2015 before being deployed against the Islamic State group"
-US led coalition air strikes slow in Syria-
Earlier Thursday it was reported that the US-led coalition forces have not carried out any air strikes in Syria for three days as of Monday, a lull that contrasts with the continued intensity of Russia's bombing campaign.
According to Pentagon data, the last coalition strike was a drone attack on October 22 that targeted an Islamic State vehicle and a "mortar tube."
As of Sunday, coalition aircraft had carried out a total of 2,679 air strikes in Syria.
According to Pentagon figures, the coalition launched 359 air strikes in July. The number dropped to 206 in August and 115 in September.
Continuing the downward trend, there have been 91 strikes so far this month.
The United States has led a coalition of more than 60 countries that since June 2014 has been conducting regular air raids against IS positions in Iraq and Syria.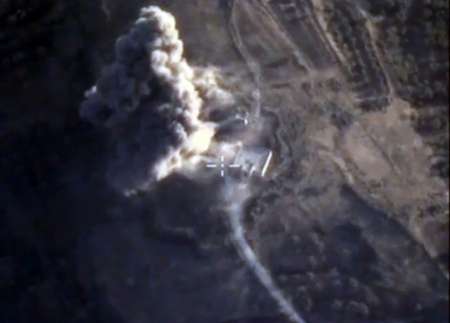 "Footage taken from the Russian Defence Ministry's website, on October 15, 2015, purports to show airstrikes carried out by Russian force an Islamic State foothold in the Syrian province of Idlib"
-As Iranian deaths in Syria rise, debate opens at home-
A spike in the number of Iranian military officers killed in Syria has started a rare debate back home about the country's increased efforts to prop up President Bashar al-Assad.
In Tehran, where war dead are revered and remembered in giant public murals, newly erected memorials are a sign of the human cost that Iran is paying in Syria, amid worries of what is to come.
Though not comparable to the 1980-1988 war with Iraq — in which hundreds of thousands of Iranians were killed — the Islamic republic's role in Syrian hotspots such as Aleppo has intensified.
The past two weeks have seen the deaths there of one of Iran's best known generals, Hossein Hamedani, two colonels and nine other members of the Islamic Revolutionary Guards Corps (IRGC).
The mounting toll has followed Russia's launch of an air campaign in support of Assad that has coincided with an escalation in the ground war.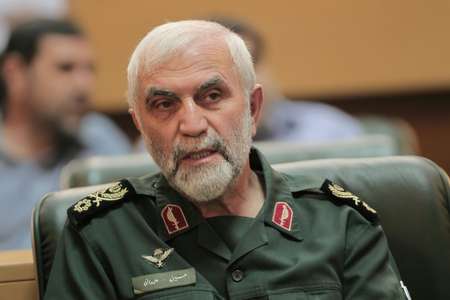 "A picture taken in Tehran on September 6, 2011, shows Iran's Revolutionary Guards Brigadier General Hossein Hamedani attending a ceremony"
The confluence of events has for the first time in Iran led some to openly question the country's four-year involvement in Syria, with concerns aired on social media.
"We shouldn't lose our commanders so easily. This is a mistake that we also often made during the imposed war," said one online post following confirmation of the two colonels' deaths, comparing them to those who fell in the conflict against Saddam Hussein.
"The fact that our generals are being martyred shows that they are right in the middle of the battle," another said on Instagram after some of the IRGC deaths emerged via the photosharing service.
Iran's ties with Syria are deep — Assad's late father, Hafez, when president sided with Iran against Saddam. Tehran has provided the current leader with military and financial aid against Western- and Gulf-backed rebel fighters since the unrest broke out in 2011.
Diplomatic efforts to end the civil war are stalemated, with Russia and Iran sticking with Assad while the United States and Saudi Arabia insist he must agree to step down, even if not immediately.
Many of those taking to social media defend Iran's military action in Syria as necessary to stop the Islamic State jihadist group.
But others caution that were IS to reach Iran's borders, the country's best commanders would no longer be alive to lead the fight.
Giant posters of Hamedani, a veteran of the Iran-Iraq war who had conducted 80 missions in Syria, and others killed there dominate squares, bridges and other prominent places in Tehran.
(Source / 28.10.2015)