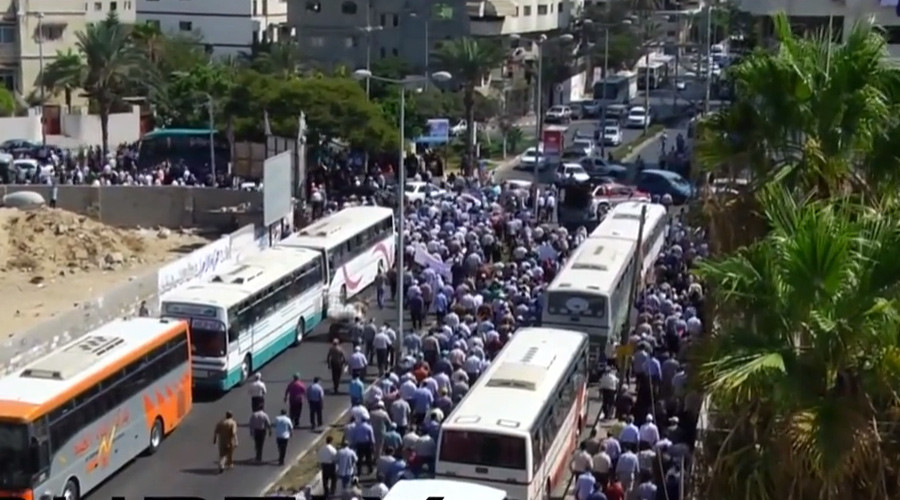 Almost 13,000 employees of the United Nations Relief and Work Agency (UNRWA) have gone on a strike in Gaza protesting cost cutting measures.
"Stop the injustice. Refugees rights" and "The UNRWA is the only witness to the refugee catastrophe," said the protesters' banners. The rally started at the agency's headquarters and ended outside the Commissioner-General of UNESCO's office in Gaza.
UNRWA employees protest against overcrowding at UNRWA schools, unpaid vacations, downsizing, and postponing the academic year.
The demonstration was called in response to the agency's new rules that would impose one-year of unpaid leave on staff members and increase the number of students in UN-run classrooms, Associated Press reports.
According to the union, after the rule change comes into effect, more than 50 schoolchildren are to be taught in each classroom. Employees had unsuccessfully urged the agency to decrease the maximum number of pupils to 38 per classroom.
Despite Monday being the first official day of the school year, UN-led schools in Gaza remain closed because of the protests and more than 220,000 Palestinian pupils had no classes as a result.
The protest was the largest in a series of demonstrations against the cost cutting measures.
On Monday, the UNRWA published a report that warned about a possible delay in the school year due to a lacking of funding. It stated that the agency is taking measures to overcome this shortage.
"The potential delay in the start of the school year for Palestine refugee children in the region has kept tensions high in Gaza," said the report.
"UNRWA is facing its most serious financial crisis ever: currently, UNRWA has a funding shortfall for core activities… the Agency is seeking USD 366.6 million for its 2015 emergency operations in Gaza, including USD 127 million for emergency shelter, repair and collective center management, USD 105.6 million for emergency food assistance, and USD 68.6 million for emergency cash-for-work," the agency wrote.
According to the same report, the agency is looking for additional sources of funding as well as trying to implement a number of austerity measures aimed at decreasing costs.
Watch more: Gazans storm UNRWA building after funding slashed
The UNRWA was found in 1949 to "provide assistance and protection for some five million registered Palestine refugees to help them achieve their full potential in human development."
(Source / 24.08.2015)