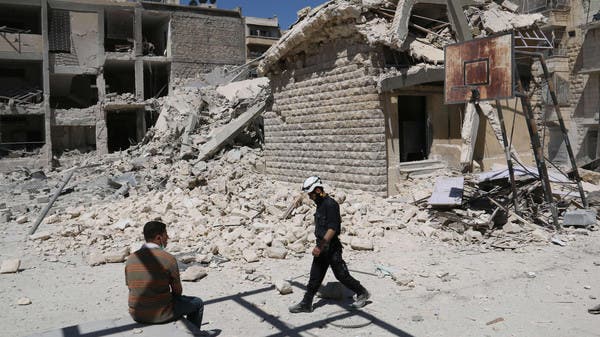 A rusty basketball hoop stands amid destruction in the courtyard of the Ain Jalout school that was heavily damaged by reported air strikes by government forces in the Ansari district of the northern Syrian city of Aleppo on April 30, 2014. 
An air strike on a school in Syria's northern city of Aleppo by President Bashar al-Assad's forces killed at least 18 people on Wednesday, mainly children, activists said.
Wednesday's attack on the Ain Jalout school in the Al-Ansari district of Aleppo appeared to be part of the sustained bombardment of the contested northern city by Assad's forces.
Pictures from the school showed blood on corridor walls and debris in classrooms, while video footage released by activists at the anti-Assad Aleppo Media Centre showed more than a dozen bodies which appeared to be children laid out on a tiled floor.
The Observatory put the death toll from the attack at 19, while the Aleppo Media Centre said 25 children had been killed.
The attack comes a day after at least 100 people were killed after two car bombs blew up in the government-controlled part of Homs.
The attacks, which mostly killed civilians, were claimed by jihadists in a pro-regime area of Homs, the Observatory said.
The devastating strikes, which stand out for their ferocity even in a civil war which now kills between 200 and 300 people a day, come as Syria prepares for an election likely to extend Assad's grip on power.
Assad declared his candidacy for the June 3 presidential elections, a race he is likely to win amid a raging civil war that initially started as an uprising against his rule.
Also Tuesday, the global chemical weapons watchdog overseeing the destruction of Syria's toxic stockpile said it would send a fact-finding mission to Syria to investigate allegations by rebels and activists of chlorine gas attacks.
The Hague-based Organization for the Prohibition of Chemical Weapons (OPCW) said Assad's government had agreed to accept the mission and promised to provide security in areas under its control.
"The mission will carry out its work in the most challenging circumstances," the OPCW said, referring to the three-year-old conflict between Assad's forces and rebels.
It gave no exact date for the mission but said it would take place soon.
(Source / 30.04.2014)