A video of an Egyptian woman protester telling the U.S. President to stop interfering in Egypt's affairs has attracted widespread attention on the internet.
"Listen your Obama. We are Egyptian women… Shut up your mouth Obama," the woman tells the camera.
"Sisi yes. Sisi yes. Mursi no. Mursi no," she adds, referring to the country's army chief Abdul Fattah al-Sisi, who is tipped to run to in upcoming Egyptian presidential elections.
Since being published last week, the 15-second video clip has been remixed into a song.
The woman may have been referring to Washington's soured relations with Cairo since Mursi's ouster. The Obama administration has since withheld much of the annual $1.5 billion in military aid it had traditionally supplied to Egypt.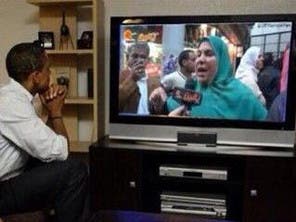 This altered picture showing Obama supposedly watching the Egyptian protester was also circulated on social networks.
Sisi – who has a considerable base of supporters – led the ouster of former Islamist President Mohammad Mursi in July last year, after massive protests against his rule.
Mursi, who hails from the Muslim Brotherhood, had served just one year in office as president.
Supporters of Sisi see him as protector of the nation from Islamist rule, while supporters of Mursi and the Muslim Brotherhood see the army chief as a traitor who deposed the country's first democratically elected president.
(Source / 10.03.2014)