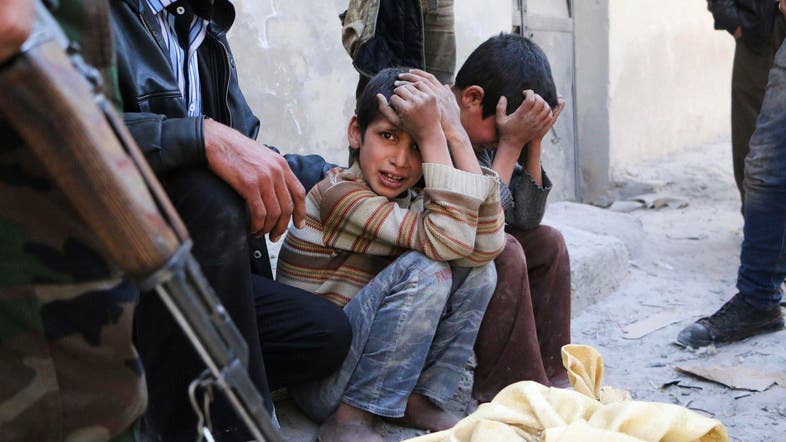 Children react next to the body of their mother after she died what activists said where explosive barrels thrown by forces loyal to Syrian President Bashar al-Assad in the Al-Andhirat neighbourhood of Aleppo February 22, 2014.
Thousands of Syrian children have crossed borders without the company of their parents or a guardian in order to reach safer neighboring countries, U.N. agencies told Al Arabiya News.
"There about 8,000 of these children, who have crossed the Syrian borders into neighboring countries unaccompanied by their parents [since the outbreak of the conflict in 2011]," said Juliette Touma, a regional spokeswoman for the United Nations Children's Fund (UNICEF).
Some children have crossed the borders because "they lost their loved ones" or to sustain their families back home by working in the countries where they settled, said the spokeswoman.
However, there are no figures detailing how many of these children have lost a parent, were orphaned or have finally reunited with their families.
"In many cases, we have succeeded in reunifying the children with their families," she said.
Different reasons
There are differing reasons – such as jobs and fear of being drafted into militia groups – why many children have decided to escape their violence-torn country on their own.
United Nations High Commissioner for Refugees (UNHCR) said in a recent report that "in many cases, refugee families lacking financial resources send their children to work [outside Syria] to ensure survival."
It added: "In both Jordan and Lebanon, the researchers found children as young as seven years working long hours for little pay, sometimes in dangerous or exploitative conditions."
An assessment in 11 of Jordan's 12 governorates found nearly one-in-two refugee households surveyed relied partly or entirely on income generated by a child.
Another reason for children crossing borders without adult supervision is the fear that they will be recruited by militias.
"Some of them have been taken part in the fighting with the militias or that they are worried that would recruited by the armed militias….that's why children cross the border alone," said Touma.
Traumatized
Traumatized children receive support from psychologists in refugee camps, and some are eventually reunited with their families.
Earlier in February, a picture of a four-year-old Syrian boy named Marwan, who had crossed the Jordanian desert unaccompanied by his parents as more refugees poured over the border spurred activity on social media.
The 8,000 figure according is not a "huge number" if it is compared to number of "more than 5 million children inside Syria and neighboring countries that need assistance," said Touma.
But she said "although it is a small percentage, these children are one of the most vulnerable groups, mostly teenagers, aged 12 and above."
According to UNHCR, there are "over 70,000 Syrian refugee families live without fathers and over 3,700 refugee children are either unaccompanied by or separated from both parents."
As for whether these children are adopted, Touma declined to comment on the issue.
Since the start of 2014, UNICEF has so far raised around 10 percent of its $800 million target to help Syrian children inside and outside the country.
(Source / 01.03.2014)