By Engelbert Luitsz                  ©                        (http://www.alexandrina.nl/?p=2713)
"Zionisme is het probleem; de verwijdering daarvan is de voorwaarde voor vrede in het Midden-Oosten."
John Rose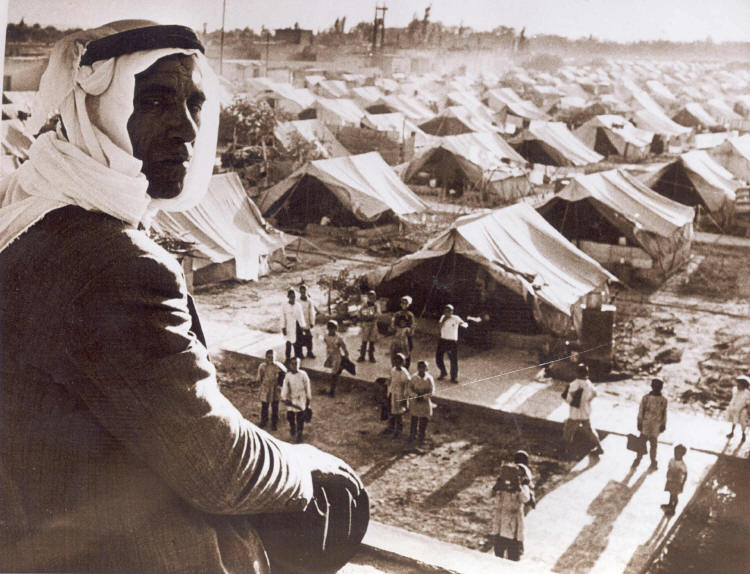 Een Palestijnse man in het vluchtelingenkamp Jaramana in Damascus, Syrië. (Wikimedia Commons)
Hoe erg is erg?
Hoe ver kun je gaan met het gebruik van geweld, voordat er een reactie komt van "de internationale gemeenschap"? Het hangt er helemaal vanaf wie je bent. Het aantal slachtoffers van de atoombommen op Hiroshima en Nagasaki wordt geschat op zo'n 500.000, ongeveer de helft direct door de bommen en de andere helft als gevolg van stralingsziekte en kanker. Daarmee was het de grootste terroristische aanslag in de geschiedenis van de mensheid. En net zoals we de Amerikanen onlangs hoorden zeggen over Syrië, ging het hier om "gezichtsverlies" te voorkomen. De Russen stonden aan de grens met Japan en het zou een te zware klap zijn geweest voor de Amerikanen als de Russen een einde hadden gemaakt aan de Tweede Wereldoorlog. Honderdduizenden onschuldige mensen werden opgeofferd, opdat het Amerikaans imperialisme "geloofwaardig" zou blijven.
De aanslagen op 11 september 2001 hebben aan bijna 3000 mensen het leven gekost. Er was terecht veel verontwaardiging over deze daad, zelfs meer dan over het Amerikaanse antwoord dat wederom aan honderdduizenden onschuldige mensen het leven heeft gekost en het Midden-Oosten nog verder heeft ontwricht. Landen als Libië, Egypte, Irak, Afghanistan en Syrië worden aangepakt op basis van het overschrijden van normen die de Verenigde Staten of hun bondgenoot Israël nooit voor zichzelf hanteren. Israël heeft zich nooit iets aangetrokken van de 77 VN-resoluties tegen het land. Irak daarentegen kreeg er veel minder, maar deze werden wel geïmplementeerd. De economische sancties tegen Irak vanaf 1990 hebben volgens de meeste onderzoekers geleid tot de dood van enkele honderdduizenden kinderen. De invasie van Koeweit was lang niet zo erg als wat Israël in Libanon heeft gedaan, maar in tegenstelling tot Irak werd Israël juist beloond voor z'n uitzonderlijke bloeddorstigheid.
Atoombom op Iran?
Het zal dan ook niemand verbazen dat er geen enorme rel ontstaat wanneer een zionist voorstelt om een atoombom op Iran te gooien. De Amerikaanse miljardair Sheldon Adelson heeft een casino-imperium opgebouwd en is een van de rijkste mensen in de Verenigde Staten. De invloed van geld op politiek wordt met Adelson meteen duidelijk. Hij is de grootste particuliere geldschieter van de Republikeinen met bijna 93 miljoen dollar. Daarnaast is hij in 2007 begonnen met een krant in Israël, de Israel HaYom, met als doel de oorlogshitsers in de Israëlische regering tot steun te zijn tegen een bevolking die niet bovenmatig warm loopt voor oorlog. De krant is gratis en is uitgegroeid tot de grootste krant in Israël met een marktaandeel van bijna 40%.
De Deutsche Wirtschafts Nachrichten meldde op 1 november dat Adelson heeft voorgesteld een atoombom te gooien op een dunbevolkt gebied in Iran, zodat de Iraniërs kunnen zien wat het effect is. Mochten ze niet onder de indruk zijn dan zou een volgende Teheran kunnen treffen. Het lijkt of Adelson als rechtgeaarde zionist van mening is dat alle landen rondom de enige democratie in het Midden-Oosten bevolkt worden door barbaren en analfabeten. Ook in Iran is men echter op de hoogte van het effect van de atoombommen op Hiroshima en Nagasaki, dus het is niet nodig dit nog eens te laten zien. Iran is in tegenstelling tot Israël ondertekenaar van het non-proliferatieverdrag. De opmerking van Adelson toont alleen – wederom – het diepgewortelde racisme aan dat het zionisme eigen is.
Het Tiananmenprotest
In de lente van 1989 werd een massale opstand op het Plein van de Hemelse Vrede (!) in Peking bloedig neergeslagen door de Chinese autoriteiten. Naar schatting 1 miljoen studenten, burgers en zelfs militairen namen deel aan deze grootse opstand tegen de onderdrukking van het communistische regime. Geen wonder dat de aandacht van de wereld op deze gebeurtenis gericht was.
En wat hoorden we in Israël? Benjamin Netanyahu, tegenwoordig minister-president, verklaarde later datzelfde jaar dat Israël dat moment had moeten gebruiken om Palestijnen "massaal te deporteren". Toen ieders aandacht gericht was op China was het een koud kunstje geweest het zionistische project naar een ander level te tillen. En achteraf is er altijd de formidabele propagandamachine om kritiek te pareren. Gelukkig is dat niet gebeurd, maar het zegt genoeg over de ware intenties van Israël.
Gaza en de bom
Tegen het einde van Operatie Gegoten Lood, begin januari 2009, verklaarde een andere zionist, de rechts-extremist Avigdor Lieberman, dat Israël zich tegenover Hamas (= de Gazastrook in de zionistische propaganda) moest gedragen "als de Amerikanen tegenover Japan tijdens de Tweede Wereldoorlog". Dat hij niet letterlijk over een atoombom sprak is uiteraard niet vanwege morele overwegingen, doch omdat de radioactieve neerslag ook in Israël voor problemen zou zorgen. Maar de strekking van zijn opmerking is volkomen duidelijk.
Gaza en gas
Nadat er enorme gasvoorraden waren gevonden voor de kust van de Gazastrook in 2000, heeft de Israëlische regering er alles aan gedaan om de exploitatie daarvan door de Palestijnen onmogelijk te maken. Het omstreden bezoek van Ariel Sharon aan de Tempelberg heeft geleid tot de Tweede Intifada, waarmee de onderhandelingen met British Gas direct beëindigd werden. Natuurlijk ontkent Israël elk verband.
Momenteel schijnt er eindelijk weer overleg te zijn, maar gezien de reputatie van Israël op dit vlak heb ik daar helemaal geen vertrouwen in. Nu Egypte met generaal el-Sisi weer een ouderwetse dictator heeft en dus "een vriend van Israël", is de Gazastrook aan Egyptische kant op slot gegaan. De situatie voor de Palestijnen is daarmee nog moeilijker geworden en het gepraat over het gas lijkt meer bedoeld om de aandacht van die onmenselijke situatie af te leiden.
De onderzoeker Nafeez Mossaddeq Ahmed zei in 2012 al dat ook Operatie Gegoten Lood in ieder geval ten dele bedoeld was om de onderhandelingen over de exploitatie van het gas te torpederen.
Palestijnen en olie
De Syrische Golanvlakte werd in 1967 door Israël veroverd, daarna bezet en in 1981 geannexeerd. Verovering, bezetting en annexatie zijn veroordeeld door de Verenigde Naties, maar hier trekt Israël zich niets van aan. Integendeel, ook daar zit olie (en gas) en er zijn al concessies verkocht aan Amerikaanse bedrijven om in het gebied naar olie te gaan boren. Het is een kleine wereld. De eerste licentie wordt gegund aan een bedrijf dat gelieerd is aan Dick Cheney, iemand die volledig op één lijn zit met de al eerder genoemde Sheldon Adelson. Andere namen in dit verband zijn de zionisten Howard Jones en Rupert Murdoch, "de meest invloedrijke mediamagnaat in de politiek".
Ook de Westelijke Jordaanoever heeft olie. De journalist Jonathan Cook heeft een prima artikel over wat hier weer speelt. De merkwaardige koers die de Apartheidsmuur volgt wordt duidelijk als we zien dat een deel van de Westelijke Jordaanoever die zo is ingepikt, belangrijk is voor de ontginning van de olievelden. Het grootste gebied, Area C, is volledig onder controle van Israël en wonder boven wonder zitten hier de olievoorraden.
Nawoord
Zo worden de Palestijnen niet alleen beroofd van hun water, hun olijfbomen, hun vee, hun huizen en hun land, maar ook nog eens van een uitgelezen kans op een zelfstandige economie. In 2000 was Yasser Arafat nog zo naïef te geloven dat de gasvelden de redding voor de Palestijnen zouden kunnen betekenen, maar net als Gamel Abdel Nasser vóór hem, verkeek hij zich op de gewetenloze machinaties van het zionisme.
Israël heeft alleen dit jaar al zes aanvallen op Syrië uitgevoerd. De Golanvlakte zal nooit worden teruggegeven, de Gazastrook is een gevangenis waar Israël een beleid van "langzame genocide" voert en de Westelijke Jordaanoever wordt net als Oost-Jeruzalem in versneld tempo aan de joodse staat toegevoegd sinds het begin van de laatste ronde "vredesbesprekingen".
Gideon Levy verwoordt het uitstekend in zijn column voor Haaretz naar aanleiding van de laatste Israëlische aanval op Syrië, waarbij luchtafweergeschut werd vernietigd. Luchtafweergeschut is een defensief wapen, maar je beschermen tegen Israëlisch geweld wordt kennelijk ook gezien als "anti-Israël".
Zo gaat dat ook met een oorlogszuchtige staat: bombarderen is hun taal. Israël beslist welke wapens zijn toegestaan en – bovenal – welke niet. Dat is goed, want zij zijn het sterkst. Israël doet het in de Gazastrook, en in Latakia, Syrië; in Soedan en de Middellandse Zee – overal waar het kan. Israël heeft het recht de soevereiniteit van een naburige vijandige staat te schenden, kan zonder problemen het Libanese luchtruim gebruiken – en laat God erbarmen hebben met iedereen die tracht hen te stoppen. God hebbe ook erbarmen met hen die twijfelen aan hun oordeel.
We moeten alles pakken wat we te pakken kunnen krijgen, zei Ariel Sharon ooit. Ondanks alle ontwikkelingen in de vorige en deze eeuw is het zionisme nog steeds trouw aan de grondbeginselen van dit koloniale project: Verdrijf de bevolking die niet past in je plan en als dat niet goedschiks kan dan maar kwaadschiks; zorg dat de landen om je heen verwikkeld raken in een interne stammenstrijd, zodat ze ongevaarlijk zijn voor ons; stel in landen die belangrijk zijn, zoals Egypte met het Suezkanaal, een corrupte dictator aan die naar onze pijpen danst; zorg dat je de steun blijft houden van een wereldmacht die je steunt bij elke immorele en misdadige actie, zowel in het veld als in de Veiligheidsraad; en bovenal, zorg dat de propaganda op orde is, zodat je moord kunt verkopen als zelfverdediging en etnische zuivering als vrijwillig vertrek.