By Engelbert Luitsz                 ©                    (http://www.alexandrina.nl/?p=2616)
If you are neutral in situations of injustice, you have chosen the side of the oppressor.
Desmond Tutu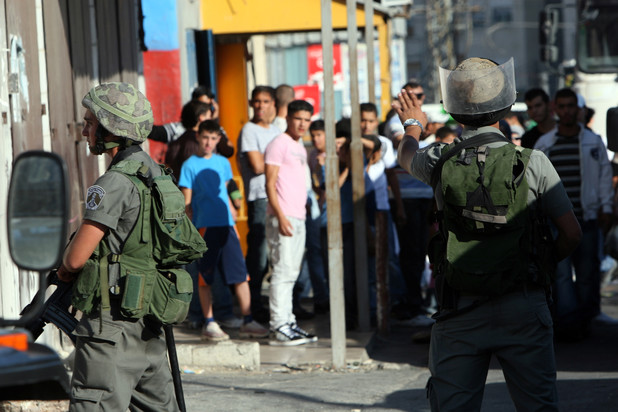 Het vluchtelingenkamp Shuafat.
Avner Gvaryahu is een voormalige Israëlische paratrooper en commandant van een elite-eenheid van scherpschutters. Tegenwoordig werkt hij bij de groep Breaking the Silence, een beweging die in 2004 is opgericht door soldaten die in Hebron hebben gediend. Dat zal geen toeval zijn: "Hebron is de beerput van de bezetting, de plek waar de meest kwaadaardige vertakkingen van het Israëlische beleid van segregatie en militaire controle het duidelijkst te zien zijn", schreef de journaliste Mairav Zonszein.
De soldaten die in de bezette gebieden moeten dienen, hebben te maken met een Palestijnse burgerbevolking die toch al zwaar onder druk staat. Breaking the Silence heeft als doel, zoals de naam aangeeft, zaken naar buiten te brengen waar de Israëlische bevolking geen weet van heeft. Mensen van buiten Israël hebben vreemd genoeg maar al te vaak een beter beeld van de situatie dan de Israëlische joden zelf. Zeker in een stad als Tel Aviv kun je je afsluiten voor alles wat er gebeurt in de bezette gebieden en een heel leven lang in onwetendheid blijven.
Gvaryahu geeft als voorbeeld een uitspraak van Tzipi Livni, tegenwoordig minister van Justitie. Zij zei: "Ik weet dat Israëlische soldaten alles zullen doen om te voorkomen dat er onschuldigen sterven." Je zou daar de opmerking van Shimon Peres aan toe kunnen voegen: "omdat wij beter op onze kinderen passen", op de vraag waarom er zoveel meer Palestijnse dan Israëlische kinderen omkomen. In de afgelopen 10 jaar heeft Breaking the Silence getuigenissen van meer dan 950 soldaten verzameld, waaruit duidelijk blijkt dat de situatie anders ligt. Ook Tzipi Livni weet wel beter natuurlijk, want tijdens het bloedbad van Gaza, operatie Gegoten Lood, was zij minister van Buitenlandse Zaken. De leugen regeert, ook in Israël.
Zoals zoveel anderen had Gvaryahu de intentie een "humane soldaat" te zijn. Vanuit zijn opvoeding en het onderwijs had hij meegekregen dat Israël zich nu eenmaal moest verdedigen tegen "existentieel gevaar" dat overal op de loer lag. Maar als snel bemerkte hij dat het zo niet werkt. Hij kreeg het bevel een Palestijn als menselijk schild te gebruiken en hij volgde dat bevel op, ook al was dat nadat het Hooggerechtshof in 2005 had bepaald dat die praktijken onwettig waren.
Het doel van het Israëlische leger (IDF) is het belemmeren van het verzet door een bezet volk, door ze via intimidatie tot overgave te dwingen. Wanneer ons geleerd wordt het risico voor onze mede-soldaten te beperken door het leven van Palestijnen op het spel te zetten, dan vindt zelfs de meest morele soldaat het onmogelijk om moreel te handelen in de bezette gebieden. En voor je het weet wordt het in gevaar brengen van Palestijnen makkelijker dan je ooit had gedacht.
Wanneer ze midden in de nacht hun commandant horen zeggen: "Ok, mannen, laten we die huizen binnengaan, zodat ze het begrijpen. Zorg dat ze het begrijpen.", moeten ze met geweld huizen binnengaan waar families met vaak veel kinderen in doodsangst de activiteiten van de soldaten moeten ondergaan. Er is geen enkele geldige reden voor dit soort "huiszoekingen", de bedoeling is uitsluitend terreur te zaaien, opdat ook andere Palestijnen zich uit angst rustig zullen houden. Het is van belang dat het leger toont dat het altijd en overal aanwezig is. De hele Palestijnse bevolking moet permanent in angst leven, dat is het doel van deze missies.
We proberen niet eens de onschuldigen buiten schot te houden door ons op de meest gevaarlijke mensen te richten. Wij leren juist als soldaten om alle Palestijnen als potentiële bedreigingen te zien, zodat er uiteindelijk geen echt onschuldigen meer zijn. En zo we behandelen wij ze dan ook: van jongens vanaf 7 jaar oud tot ouderen van 70. We slaan ze. We vernederen ze. We ontdoen hen van hun menselijkheid. Hoe is het mogelijk nog moreel te handelen onder zulke omstandigheden?
In tegenstelling tot wat Livni beweert is de onmenselijke behandeling van de Palestijnen dus de norm en niet de uitzondering. De mannen en vrouwen van Breaking the Silence maken deel uit van een nieuwe generatie die niet langer klakkeloos de leugens van politici gelooft, of de immorele bevelen van hun leiders opvolgt. Een cruciaal en gezien de publieke opinie in Israël ook bijzonder moedig statement van Gvaryahu is dat hij inziet dat het om een collectieve verantwoordelijkheid gaat.
Het komt er uiteindelijk op neer dat als de jeugd van morgen rechtvaardigheid wenst voor Israëli's en Palestijnen, dan is er geen andere weg dan de verantwoordelijkheid te nemen voor wat wij allen, voor een deel, hebben helpen ontstaan.
Een andere man, Moriel Rothman, moest vorig jaar 20 dagen de gevangenis in omdat hij weigerde in de bezette gebieden te dienen, wegens gewetensbezwaar. Hij bezocht onlangs het vluchtelingenkamp Shuafat in Oost-Jeruzalem. Hij had een vreselijke tijd gehad in de gevangenis, ook al was het maar 20 dagen. Maar nu ziet hij een gevangenis waar tienduizenden mensen al tientallen jaren in vast zitten. Het kamp stamt officieel uit 1965, maar de inwoners zijn al vluchteling vanaf 1948, ze werden later door Israël onder dwang overgebracht naar Shuafat. Wat hij hier ziet beneemt Rothman letterlijk de adem.
Vorige maand was er sprake in de media van het al dan niet vrijlaten van een paar honderd gevangenen door Israël, als aanzet voor een nieuwe ronde van het "vredesproces". Maar Israël houdt geen honderden gevangenen vast in z'n gevangenissen; het houdt honderdduizenden Palestijnse gevangen vast in z'n gevangenissen. Gevangenissen als het vluchtelingenkamp Shuafat, onderdeel van een Verenigd Jeruzalem (behalve dan de racistische apartheidsmuur).
Deze mensen hebben een kant gekozen, zijn niet "neutraal". Niets aan toe te voegen.
De getuigenissen die Breaking the Silence heeft verzameld zijn uitgegeven in boekvorm onder de titel Our Harsh Logic: Israeli Soldiers' Testimonies from the Occupied Territories, 2000-2010.