By Engelbert Luitsz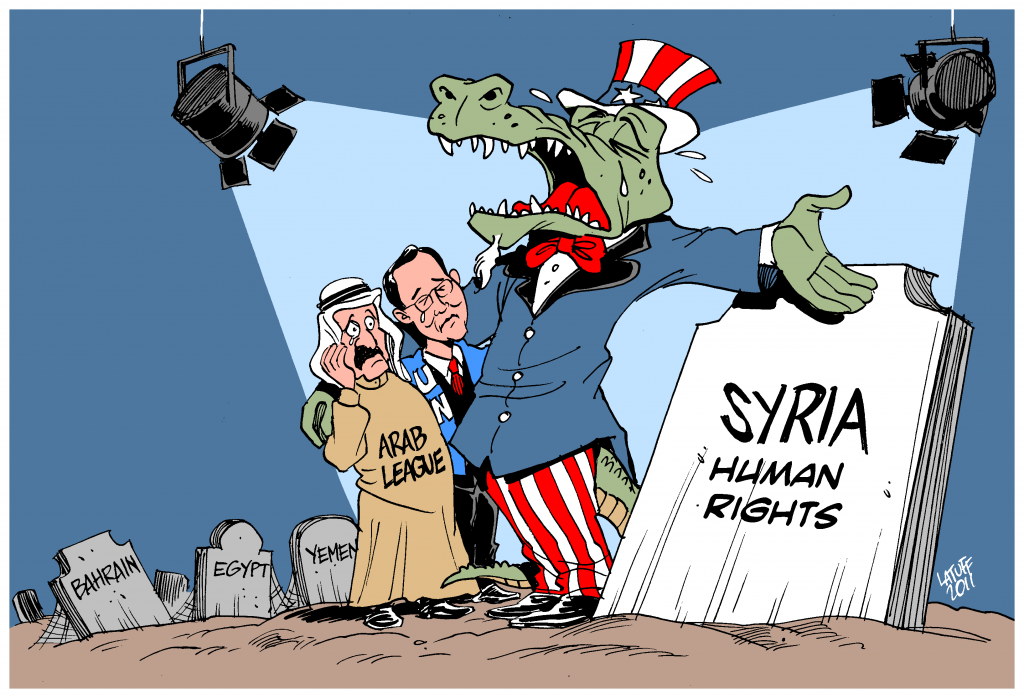 Cartoon van Carlos Latuff
Mint Press News
Op 29 augustus publiceerde Mint Press News een artikel over de gifgasaanval in Ghouta dat nog steeds de gemoederen bezig houdt. De strekking was dat rebellen via Saoedi-Arabië gifgas hadden ontvangen, met een belangrijke rol voor het Saoedische hoofd van de veiligheidsdienst Bandar bin Sultan.  Als co-auteur werd  Dale Gavlak genoemd, een freelance correspondent voor onder andere het persbureau Associated Press en de BBC.
Na forse kritiek op het artikel probeerde Gavlak Mint Press News te bewegen haar naam te verwijderen, volgens haar kwamen de research en het schrijven volledig op naam van de Jordaanse journalist Yahya Ababneh, die ter plekke aanwezig was, en had ze aanvankelijk alleen haar naam aan het artikel verleend om het geloofwaardigheid te verlenen. AntiWar.com publiceerde op 31 augustus haar verklaring dat ze inhoudelijk niets met het stuk te maken had gehad en dat Mint Press News geweigerd had haar eis in te willigen. AntiWar.com had net als veel andere websites het artikel overgenomen.
Pas op 20 september verscheen de verklaring van Davlak, dus 3 weken na publicatie. In de tussentijd lijkt er veel druk te zijn uitgeoefend op zowel Mint Press Nieuws als op haar persoonlijk. Ze schijnt voor onbepaalde tijd geschorst te zijn bij Associated Press en de nieuwssite wordt aangevallen met aantijgingen van een verborgen agenda.
Mint Press schrijft ook dat Yahya Ababneh gewaarschuwd is door de Saoedische ambassade dat zijn carrière voorbij is als hij door blijft gaan met aandacht te besteden aan de affaire van de chemische wapens.
Meer visies
Inhoudelijk komt het artikel overeen met wat we ook van Carla del Ponte (voormalig hoofdaanklager van het Joegoslavië-tribunaal) eerder (hier en hier) hoorden en tevens van Mairead Maguire (winnaar van de Nobelprijs voor de Vrede) die ter plekke was.
De Vlaamse norbertijn Daniel Maes, die in Syrië woont, claimt dat Syrië voor de oorlog een harmonische samenleving was met respect voor minderheden en andere geloven. Hij wijt het conflict aan belangen van de internationale wapenhandel. En ook de Syrische non Moeder Agnes heeft grote twijfels bij het verhaal dat voortdurend door het Westen naar buiten wordt gebracht. In de New York Times wordt er dan ook gehakt van haar gemaakt.
Wat al deze visies en getuigenissen gemeen hebben is dat ze niet of nauwelijks aandacht krijgen in de belangrijke media, behalve dan af en toe om ze belachelijk te maken. De stukken van zowel links als rechts die beweren dat een aanval op Assad een morele imperatief is, en dus het standpunt van de VS en een groot deel van het Westen + Israël lijken te verkondigen, krijgen wel veel aandacht.
Wie te geloven?
Jim Naureckas vergeleek de verschillende mogelijkheden in een artikel voor de Washington Spectator. En al merkt hij terecht op dat onafhankelijke nieuwsmedia niet per definitie meer waarheidsgetrouw zijn dan de grote mediacorporaties, het pleit voor Mint Press dat ze een slag om de arm hielden omtrent hun verslaggeving. Het tegenovergestelde zagen we van Amerikaanse kant waar al vanaf het begin met alle stelligheid werd beweerd hoe het zat. Een VN-onderzoek was overbodig en de Veiligheidsraad kon gepasseerd worden, want "wij weten wat er is gebeurd en wat er moet gebeuren". Dat maakt je al bij voorbaat sceptisch, vindt ook Naureckas.
Press TV meldde vandaag nog dat men er van overtuigd is dat Obama hoe dan ook Syrië wil aanvallen. Van enige communicatie lijkt geen sprake te zijn. We weten het ook met betrekking tot Iran, met dat land werd via Zwitserland "gepraat". Dat is wel een manier om je geliefde vijandbeeld intact te houden, natuurlijk. De Syrië-kenner Koos van Dam zei onlangs nog in een interview in de Volkskrant dat Rusland het enige land is dat normaal met Syrië communiceert. En Van Dam merkt terecht op:
Bovendien ben ik van mening dat de situatie door militair geweld alleen maar erger wordt. Er zijn weinig conflicten bekend waarin geweld iets geholpen heeft.
Chantage
De Russische minister van Buitenlandse Zaken, Sergei Lavrov, beweerde vandaag dat de Verenigde Staten Rusland proberen te chanteren. De VS dreigen geen energie meer te stoppen in het verbieden van chemische wapens (de OPCW) indien Rusland weigert de resolutie te ondertekenen die militair geweld in Syrië toestaat. Met andere woorden, zelfs al lukt het om afspraken te maken met president Assad over het vernietigen van chemische wapens, dan nog houdt Amerika de mogelijkheid open om militair in te grijpen.
Pentagon was op de hoogte
Vandaag werd ook bekend dat het Pentagon op de hoogte is van het feit dat extremistische groepen als al-Nusra and al-Qaeda in het bezit zijn van chemische wapens. Het werd bekend gemaakt door de voormalige hoge ambtenaar van het ministerie van Defensie van de Verenigde Staten Michael Maloof. Dit nieuws was tegen het zere been van premier Erdogan van Turkijë, die deze groepen juist steunt. Turkijë zit zoals bekend in het complot om het Syrië van Assad uit "morele overwegingen" te bombarderen. Maloof was een van de meer betrouwbare bronnen die er op wezen dat Amerika het aantal burgerslachtoffers dat valt bij aanvallen met drones verborgen houdt (video).
John Miller, ex-FBI, vertelt hetzelfde verhaal. al-Qaeda en al-Nusra zouden in het bezit zijn van chemische wapens. De door al-Qaeda gemaakte wapens zouden via Turkijë bij leden van al-Nusra in Syrië terecht gekomen zijn.
Wachten op de bom?
Het feit dat zoveel cruciale informatie nauwelijks tot ons doordringt is zeer beangstigend. Het zijn juistleugenaars als John Kerry die internationaal en Frans Timmermans die nationaal alle aandacht krijgen. Vandaag bij Buitenhof was de Libanese journalist Rania Abouzeid te gast. Ze had een goed verhaal en maakte duidelijk hoe complex de ontwikkeling van de afgelopen twee jaar is geweest. De realiteit van gematigde groepen die vechten tegen extremisten, en allebei weer tegen Assad, maakt dat niemand zich illusies hoeft te maken over het lot van de onschuldige burgers die gevangen zitten in deze waanzin. De cruciale vraag die ik graag had willen horen: "Hoe denkt u over een bombardement door het Westen?", werd echter niet gesteld. Of mocht niet gesteld worden wellicht.
Ook Robert Fisk heeft zo zijn twijfels over de Westerse lezing. Rusland zegt dat de gevonden granaten nooit aan Syrië verkocht zijn, maar aan landen als Yemen en Libië, decennia geleden. Dus na twee jaar bloedvergieten en meer dan 100.000 doden is er door een aanval met een paar verouderde raketten opeens een reden om Syrië aan te vallen? En dat een paar dagen nadat een team van VN-inspecteurs was aangekomen? En op slechts een paar kilometer van het hotel waar deze verbleven? Fisk haalt een journalist aan:
Als het Westen een excuus nodig had om Syrië aan te vallen, dan hebben ze dat precies op tijd gekregen, op de juiste plek en ten overstaan van VN-inspecteurs.
Het zal nog wel even onduidelijk blijven. Rusland heeft al aangegeven militairen te willen leveren om de VN-leden te beschermen bij het onderzoek. De zoveelste slimme zet in het schaakspel. Ondertussen maakt senator McCain Poetin voor rotte vis uit, blijft John Kerry maar smeken om een aanval en lijkt Obama steeds bleker te worden. En niemand lijkt zich iets aan te trekken van het overgrote deel van het Syrische volk, dat hier niet om heeft gevraagd en nu of op de vlucht is, of thuis met angst en beven afwacht wat er morgen zal gebeuren.