By Engelbert Luitsz      ©              (http://www.alexandrina.nl/?p=2515)
"Een man met een overtuiging is moeilijk te veranderen. Als je het niet met hem eens bent loopt hij weg. Toon hem feiten en cijfers en hij betwist jouw bronnen. Doe een beroep op logica en hij begrijpt niet waar je het over hebt."
Leon Festinger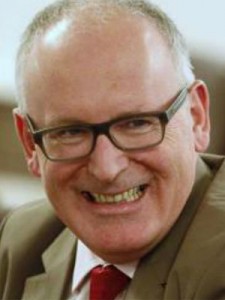 Minister Timmermans is druk aan het lobbyen om desnoods zonder steun van de Veiligheidsraad tot een aanval op Syrië over te gaan. In hoeverre is hij veranderd sinds hij op 5 november 2012 minister van Buitenlandse Zaken is geworden? In tegenstelling tot wat wij moeten geloven is een aanval op Syrië geen wens van de internationale gemeenschap. Het is het plan van enkelen in Washington en Tel Aviv, met steun van een paar Arabische potentaten; het voorspel voor een aanval op Iran. Een interview dat Timmermans onlangs gaf op Al-Jazeera kan misschien meer duidelijkheid verschaffen over de visie van deze man.
Timmermans versus Rosenthal
De uitingen over Israël zeggen veel over de integriteit van een politicus. Wie durft zijn mond open te doen? Midden-Oostendeskundige en diplomaat Koos van Dam liet er onlangs iets over los in eeninterview met Vrij Nederland. Tijdens de verschillende kabinetten verschilde de speelruimte weliswaar enigszins, maar het "bleef moeilijk manoeuvreren".
BNR, 07 september 2011
Minister Rosenthal blijkt geen voorstander te zijn van een ophoging van de VN-status voor de Palestijnen.
PvdA-Kamerlid Frans Timmermans uitte kritiek op de houding van
Rosenthal. Door te zeggen dat alle partijen het eens moeten zijn, krijgt
Israël volgens Timmermans in de praktijk een vetorecht. "Dat past niet",
zei hij.
Op 29 september 2011 publiceerde Timmermans een artikel met een titel die niets te raden overlaat: Rosenthal blokkeert oplossing Midden Oosten.
Begin 2012, wanneer Israël dreigt de banden met de Mensenrechtenraad van de Verenigde Naties te verbreken, schrijft Timmermans
Ik ga ervan uit dat minister Rosenthal het besluit van de Israëlische regering in niet mis te verstane termen namens Nederland zal veroordelen.
In niet mis te verstane termen, ik herhaal het nog maar even. Velen met mij waren dus blij toen Timmermans Rosenthal mocht opvolgen. De verwachtingen waren hooggespannen. En werden ook direct de kop ingedrukt.
Ruim een week na zijn aantreden ging het al mis berichtte het NRC: "Een erkenning van de Palestijnse Autoriteit als staat door de Verenigde Naties is 'ontijdig en onverstandig'." Hij doet dus hetzelfde als wat hij zijn voorganger een jaar geleden had verweten.
Op 14 november van dat jaar begon Israël aan de zoveelste slachtpartij in de Gazastrook, deze keer met de Bijbelse naam Operatie Wolkkolom. Nadat ze eerst een belangrijke Palestijnse onderhandelaar voor een definitief staakt-het-vuren hadden vermoord, plus enkele kinderen, werden ze kwaad dat strijders in de Gazastrook iets terug deden. Daarop volgde een verwoestend militair offensief dat een week duurde en aan vele tientallen onschuldige burgers het leven heeft gekost, naast enorme materiële schade. Op 15 november verklaart Timmermans echter al:
Hamas heeft raketten afgevuurd, aldus Timmermans. Het leed dat door de
Israëlische bombardementen wordt veroorzaakt is dus ook de schuld van
Hamas, voegde hij eraan toe.
In juni 2013 brengt Timmermans een bezoek aan Israël. Gaat hij ze nu eindelijk eens de waarheid zeggen? Niet volgens het NRC:
Dit jaar is de relatie behoorlijk verstoord. Timmermans zal vandaag en
morgen daarom vooral benadrukken hoezeer Nederland Israël toch echt wel steunt. Hij zal onderstrepen dat Nederland er voorstander van is de
Libanese Hezbollah op de terreurlijst te plaatsen. En niet te vergeten,
hij zal benadrukken dat de handel tussen Nederland en Israël goed loopt:
Israël exporteerde vorig jaar voor 2 miljard euro naar Nederland.
Het bezoek verloopt kennelijk bijzonder plezierig voor onze Frans. Er is een zeer omstreden bouwplan voor een gebied bij Jeruzalem, E1, dat de Westelijke Jordaanoever in tweeën snijdt. Een nieuwe ramp voor de Palestijnen aldaar. Wereldwijd was er kritiek op dit plan, maar indien de EU het waagt sancties op te leggen aan Israël, dan zal Timmermans zijn veto inzetten.
Minister Frans Timmermans van Buitenlandse Zaken zal zijn veto uitspreken over mogelijke EU-sancties tegen Israël mocht dat land nederzettingen gaan bouwen op de omstreden locatie E1 ten oosten van Jeruzalem.
En zo kunnen we nog wel even doorgaan. Timmermans heeft de zionistische oorlogsmisdadigers vanaf zijn aantreden als minister in niet mis te verstane termen te kennen gegeven dat zij alles mogen doen wat zij willen en dat hij hun acties van harte ondersteunt zolang hij zijn interessante baantje maar mag behouden.
Het interview
Vandaag meldt de NOS dat de Tweede Kamer geen geheime informatie meer krijgt van de veiligheidsdiensten MIVD en AIVD met betrekking tot het gebruik van chemische wapens in Syrië. Hoe zit dat nou met Timmermans, Nederland, het internationaal recht en ingrijpen in zaken die ons niet aangaan? Het gesprek licht een tipje van de sluier op.
Het interview begint nog hoopvol, Timmermans heeft het over de Veiligheidsraad. Wel is het duidelijk dat je Assad en de Russen nooit kunt vertrouwen. Het is door associatie dat je moet opmaken dat "wij" dus wel deugen. Een mooi voorbeeld van wat Edward Said oriëntalisme noemde.
Timmermans herhaalt het sprookje van een paar vredelievende mensen die in opstand kwamen tegen de dictatuur van Assad, waarna het helemaal uit de hand liep. Hoe dat mogelijk is legt hij helaas niet uit. Hoe kan zo'n klein groepje boze dorpelingen het machtige leger van Assad zulke zware verliezen toebrengen? Hij geeft wel aan dat minder prettige groepen zich met de opstand bemoeid hebben, maar verzuimt wederom te melden wat die mensen daar te zoeken hebben, wie ze betaalt en op wie ze zich richten. Arabi Souri, een Syriër die in Duitsland woont, schrijft dat de zogenaamde spontane opstand op 15 maart 2011 begon in Daraa. De rechtbank, politiebureaus, het huis van de gouverneur en andere publieke gebouwen werden in brand gestoken en geplunderd. In Darraa en Homs werden 110 ongewapende politieagenten gedood, waarna er veel woede ontstond tegen de "revolutionairen".
Naarmate het gesprek vordert wordt het steeds duidelijker dat Timmermans de Veiligheidsraad eerder ziet als een obstakel dan als belangrijk politiek instrument. Waarom? Omdat er landen zijn die hun veto kunnen gebruiken om de plannen van de Verenigde Staten te dwarsbomen. Over het feit dat de Amerikanen hun veto talloze malen hebben misbruikt om Israël buiten schot te houden hoor je hem uiteraard niet. Het wordt echt eng wanneer hij begint over de "moderne tijd" waarin de Arabische landen en Afrika niet thuishoren, die landen zouden dan ook niets te zeggen mogen hebben over wat "de internationale gemeenschap" beslist. Wanneer de interviewer blijft doorvragen over de rol van het internationaal recht en opmerkt dat unilaterale acties juist een vrijbrief zijn voor andere landen om zich ook maar niets aan te trekken van het internationaal recht, komt Timmermans met een argument dat wel van het CIDI afkomstig moet zijn. Daar gebruiken ze dat te pas en te onpas om kritiek te pareren. Omdat Rusland Syrië heeft bewapend en zijn veto heeft gebruikt om een aanval op het land te voorkomen, is Rusland de kwaaie pier!
"Wie heeft het internationaal recht de afgelopen 2,5 jaar ondermijnd?", vraagt Timmermans. Met andere woorden, als zij het doen mogen wij het ook. Het schijnt dat de goede man een jaartje Europees recht heeft gestudeerd in Frankrijk.  Hij wringt zich in allerlei bochten om een illegale actie legaal te laten lijken op "humanitaire" gronden. Bij humanitair moeten we dan denken aan Libië of Irak, neem ik aan. Waarschijnlijk had Timmermans in het Franse Nancy meer oog voor de bevallige Françaises dan voor de letter of de geest van de wet.
Niet alles wat hij beweert is echter even idioot. De stelling "je kunt tegenwoordig geen chemische wapens gebruiken zonder de gevolgen van je oorlogsmisdaad onder ogen te moeten zien" is goed te verdedigen. Het probleem hier is weer dat de bewijzen zich opstapelen dat de rebellen verantwoordelijk waren en niet Assad. Gaat hij dan voorstellen de rebellen te bombarderen? Hij vergeet voor het gemak ook even dat Israël chemische wapens heeft ingezet tegen de burgerbevolking van de Gazastrook, dat de Verenigde Staten medeplichtig waren aan de gifgasaanvallen van Sadam Hoessein tegen de Koerden en tegen Iran. De balk in het eigen oog zal hem het zicht hebben belemmerd.
Israël
En dan, eindelijk, na zeventien minuten wordt Israël voor het eerst genoemd. Zou Israël niet ook afstand moeten doen van chemische wapens als het om een principekwestie gaat en niet om het aantal doden, want het aantal slachtoffers van "conventioneel" geweld is vele malen hoger? Als we niet willen dat landen chemische wapens bezitten zou dat toch voor iedereen moeten gelden. Maar niet volgens Timmermans. Hij probeert de bekende afleidingstruc door het over "het vredesproces" te hebben en over het geweldige werk dat John Kerry daarin verricht. Maar de vraag had natuurlijk niets met de Palestijnen te maken, die ging over de toepassing van internationale afspraken.
Eerst moet er vrede komen en dan pas kunnen we – eventueel – praten over het wapenarsenaal van Israël. Dat de inzet van dat arsenaal nu net de reden is dat er nooit vrede zal komen ontgaat de minister kennelijk. Israëls nucleaire wapens? Zinloos om het daar over te hebben. En alhoewel hij zelf over de Palestijnen begon behoren deze mensen overduidelijk tot de categorie van aardbewoners die geen deel mogen nemen aan de besluitvorming. Zij dienen zich te schikken in de dictaten van Timmermans' bazen in Washington en Tel Aviv.
Het definitieve bewijs dat Timmermans het spoor helemaal bijster is bleek uit zijn hartekreet
Hebben de Israëli's ooit andere landen bedreigd?
Vraag dat maar eens aan mensen in Libanon, Syrië, Irak, Egypte, Jordanië of de Gazastrook en de West Bank, beste Frans. En niet te vergeten Iran, dat al zeker 20 jaar wordt bedreigd door de zionistische entiteit. Begin augustus voerde Israël nog bombardementen uit in Syrië, waarbij zeker 20 mensen werden gedood, waarvan de helft burgers. Oh, en de Israëlische historicus Martin van Crevel liet zich eens ontvallen dat Israël in staat was de meeste Europese hoofdsteden te treffen met nucleaire wapens. Onzin, zou Timmermans zeggen.
Bonus
De interviewer vraagt ook naar de mening van Timmermans over een studie naar islamofobie in Nederland door Frank Bovenkerk. Tussen 2005 en 2010 waren er meer incidenten met betrekking tot islamofobie in Nederland dan in welk ander land ook. Onzin, volgens Timmermans. Onlangs stelde de Roemeense minister van Arbeid dat Nederland een erg racistisch land aan het worden is. Onzin, volgens Timmermans. Dat de PVV onlangs nog met 30 zetels uit een peiling kwam, waarmee ze de grootste partij zou worden indien er nu verkiezingen zouden worden gehouden, is kennelijk aan de man voorbij gegaan.
Cognitieve dissonantie
De Amerikaanse psycholoog Leon Festinger bedacht in de jaren vijftig van de vorige eeuw de theorie van de cognitieve dissonantie. Deze claimt dat we een sterke motivatie hebben om consistent te zijn. Wanneer we verschillende overtuigingen hebben die met elkaar in strijd zijn, kan dat leiden tot irrationeel en soms schadelijk gedrag. De spanning die ontstaat tussen twee tegenstrijdige gevoelens noemde hij cognitieve dissonantie en omdat dat onplezierig is proberen we een vorm van harmonie te bereiken. Een bekend voorbeeld is een scheiding. Als een van de partners nog steeds verliefd is op de ander, zit je gevangen tussen haat en liefde. Dit kun je bijvoorbeeld proberen op te lossen door te bedenken dat die ander eigenlijk al een slecht mens was vóór de scheiding, zodat alleen de haat overblijft. En daar is vaak beter mee te leven dan met een emotioneel conflict.
Bij Timmermans zagen we de draai die hij heeft gemaakt in de periode van voordat hij minister was tot nu. In de wereld waarin hij terecht is gekomen botsen de ideeën van voor 5 november 2012 met de eisen die zijn nieuwe functie aan hem stellen. Die twee zienswijzen zijn niet te verzoenen, dus het gevolg is dat er één de boventoon is gaan voeren en de andere gebagatelliseerd tot zelfs ontkend wordt. Processen die in ieder individu een rol spelen krijgen echter een andere dimensie wanneer ze betrokken zijn bij grootschalige conflicten waarbij het om vele mensenlevens gaat. Ook al kunnen we ten dele begrijpen waarom mensen zich op een bepaalde manier gedragen, het ontslaat ze daarmee niet van de verantwoordelijkheid voor hun daden.
Timmermans is een intelligent man, iemand die gestudeerd heeft en vele jaren ervaring heeft in de politiek. En precies om die reden draagt hij een zwaardere verantwoordelijkheid dan de doorsnee burger. De grote Palestijnse denker Edward Said formuleerde het perfect:
In mijn visie is niets zo verachtelijk als die gewoonten in de geest van een intellectueel die zorgen voor ontwijkend gedrag, dat karakteristieke wegvluchten voor een moeilijke en principiële positie, waarvan je weet dat het de juiste is, doch die je verkiest niet in te nemen.

http://www.youtube.com/watch?feature=player_embedded&v=hMqNI7jDazw