While the debate over Syria's use of chemical weapons continues to be the focus of international diplomacy, a Human Rights Watch report released on Friday concluded that forces loyal to President Bashar al-Assad, armed with just guns and knives, "executed at least 248 people in the towns of al-Bayda and Baniyas on May 2 and 3," many of them women and children.
The 78-page report — based on 20 witness accounts and a forensic examination of video apparently recorded by participants in the deadly crackdown on the rebellious towns and terrified observers in the hills nearbyas the killing unfolded — was published the same day as a searing video reportbased on the same evidence was broadcast and posted online by Channel 4 News in Britain.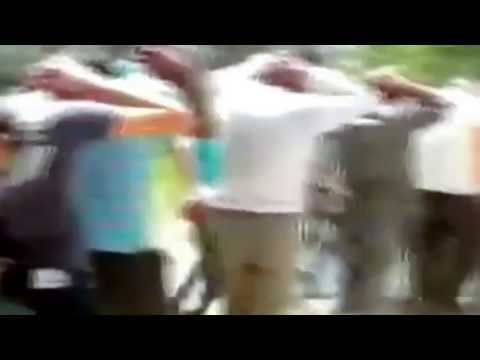 A Channel 4 News video report, which contains graphic images, presents witness accounts and footage to document claims that Syrian security forces massacred civilians in the towns of al-Bayda and Baniyas in May.
Taken together, the two reports make a convincing case that Syrian government forces were responsible for a massacre with conventional weapons that passed almost unnoticed months before the killings with poison gas outside Damascus prompted the United States to threaten military retaliation. (As The Lede noted at the time, the BBC interviewed survivors of the massacre in May, but the horrors they described initially failed to stand out as the pace of killing escalated in Syria.)
The idea that the American government would draw a "red line" to prohibit the further slaughter of Syrians with chemical weapons — but permit the summary execution of civilians to go on unchecked — has astonished Syrian activists, international rights workers and journalists, like the BBC correspondent Paul Danahar.
Paul Danahar        ✔ @pdanahar
It seems US policy on #Syria is: 'if all goes to plan the regime will stop killing with gas.' The plan doesn't involve stopping the killings
Indeed, three Congressional sources told Reuters on Thursday that support for President Obama's plan to strike Syria had waned after administration officials admitted in private that some of the 1,429 dead bodies counted by analysts in video of the victims posted online might have been killed "by the conventional bombing that followed the release of sarin gas in suburban Damascus neighborhoods."
As James Brabazon, the producer of the Channel 4 News report, explains on the broadcaster's Web site, al-Bayda was a mainly Sunni Muslim village that embraced the uprising against President Assad soon after it started in March 2011, despite being surrounded by pro-government towns and villages.
The village attracted little notice until May 2011, when opposition activists obtained shocking video recorded by a pro-government militiaman during a security crackdown there that showed protesters being kicked, beaten and stomped on in al-Bayda's main square.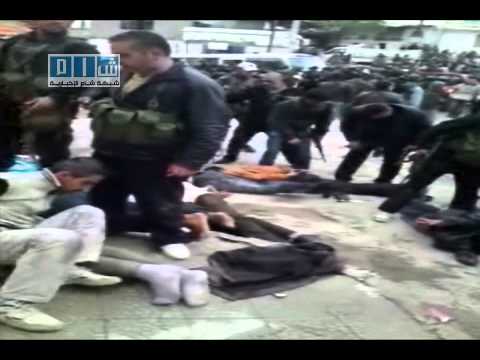 Video posted online by Syrian opposition activists showed protesters being abused in the village of al-Bayda in May, 2011.
Later that month, as The Lede reported, state-controlled television channels tried to discredit that footage, claiming that it was either staged to undermine the government or filmed in Iraq and showed abuses by American soldiers and Kurdish peshmerga fighters. That effort at damage control was undermined, however, when activists responded by releasing video of one of the men shown being abused in the footage, a Bayda resident named Ahmad Bayasi, standing in the same location and holding up his Syrian identity card.
As Channel 4 News reported later in 2011, Mr. Bayasi was subsequently arrested and appeared on state television making what looked like a forced statement that he had never been abused.
According to the Human Rights Watch report, "at least 9 men, 3 women and 14 children" from the extended Bayasi family were executed in al-Bayda during the raid by security forces on May 2 of this year.
(Source / 13.09.2013)