Syrian opposition leader Moaz al-Khatib has resigned to denounce 'international community's lack of real action'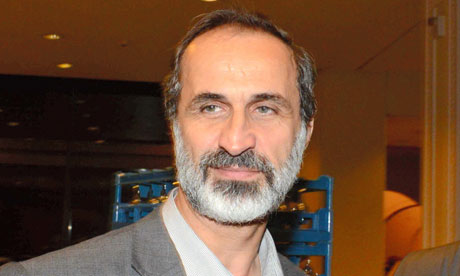 Moaz al-Khatib, a former imam of the Ummayyad mosque in Damascus, is highly regarded inside Syria.
Syria's opposition has reacted angrily to the refusal by the US and its western allies to do more to help, amid signs Bashar al-Assad's regime is gaining ground in the international debate about how to handle the country's two-year crisis.
Moaz al-Khatib, leader of the mainstream National Opposition Coalition (NOC), the rebel group backed by Arab and western governments, registered his dismay by confirming on Sunday that his resignation – first announced nearly a month ago but not implemented – was now final. "Khatib is resigning to denounce the international community's lack of real action on behalf of the Syrian people," said an NOC official, Marwan Hajjo.
The move followed Saturday's meeting of the Friends of Syria group in Istanbul, which ignored demands for "specific, precise and immediate action to protect Syrian civilians from the use of ballistic missiles and chemical weapons".
The NOC had said it was a "moral imperative" to enforce a no-fly zone to stop attacks on Syria's northern and southern borders to allow for the free movement of refugees back into the country. But John Kerry, the US secretary of state, announced only a doubling of non-lethal aid, including equipment such as body armour and night-vision goggles but not weapons. America's $250m will be distributed by the Supreme Military Council, part of an effort to guarantee firmer political control by the Free Syrian Army.
Khatib, a former imam of the Ummayyad mosque in Damascus, is highly regarded inside Syria. His departure is a blow to an opposition which often appears fractured and incoherent and pits liberal and secular figures against the powerful Muslim Brotherhood. He first announced his resignation on 24 March, but continued working in the hope of securing wider representation and internal reforms. Khatib met Kerry before Saturday's conference began.
"The result in Istanbul was less than the Syrian people expected," Hisham Marwa, a senior member of the NOC, said. "The US said that the use of chemical weapons was a red line for the Assad regime but the regime is using them and nothing has happened. We expected more. Russia sends Assad tonnes of weapons every week."
Saudi Arabia, which has been accelerating arms supplies to the rebels through Jordan in recent weeks, was also unhappy with the outcome of the Istanbul meeting, opposition sources said. Opposition supporters inside and outside Syria say that providing the FSA with anti-aircraft missiles could quickly turn the tide by robbing Syria's air force of its ability to attack with impunity. But Assad's government has successfully exploited mounting western concerns about the rise of Jabhat al-Nusra, an important Islamist fighting group.
(Source / 21.04.2013)