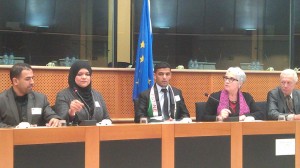 Mahmoud Sarsak – Palestinian football player, member of the Palestine national football team gave a talk in European Parliament on April 11th about the Palestinian political prisoners in Israeli jails. Sarsak spent 3 years in jail under administrative detention, three months on hunger strike while imprisoned without trial in Israel. Sarsak was imprisoned in 9 detention centers and tortured and interrogated for 45 days. He was deprived of food and sleep, kept for a long time in an isolated cell with loud heavy metal music playing for 18 days. When falling asleep he received hot or cold water on his body… « All this for me to confess to things I didn't do  » he said.
At the end of his interrogation he was classified as « illegal fighter » – a category that didn't exist before. For 3 years he didn't see any lawyer nor family, he couldn't write and receive letters either.. « For them I was only a number and a number doesn't have any rights. My number was 1220 » Sarsak concluded.
Mahmoud Sarsak is continuing in his efforts to highlight the issue of the Palestinian prisoners at the European political level. Several meetings were organised with the European Parliament to discuss the suffering of the prisoners including the harsh conditions they face inside the occupation prisons.
« This is not only Palestinian cause, it is also about human rights and international law.Palestinians are deprived of treatment when they are sick in prison. Two football players: Omar Abu Rouis and Mohammed Nemer from the Palestine national football team have been in prison for a year now without ever being charged of any crime » – he said
According to the Palestinian Central Bureau of Statistics and the Ministry of Prisoners Affairs a total of 208 Palestinian prisoners have died in Israeli jails since 1967.
Mahmoud Sarsak called on the European Parliament to take urgent action to free Palestinian political prisoners and put pressure on UEFA not to hold sporting competitions in Israel.
(Source / 15.04.2013)