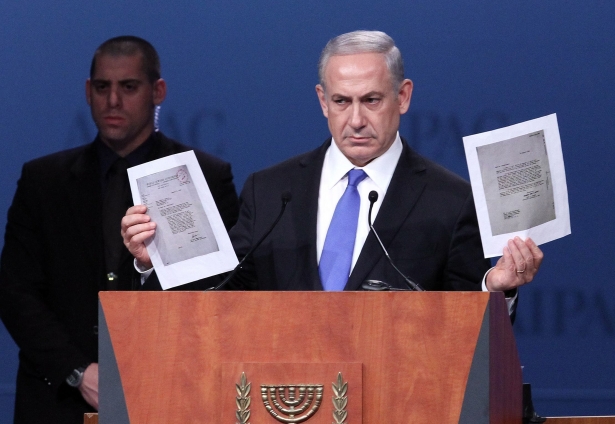 Israeli Prime Minister Benjamin Netanyahu holds documents from World War Two regarding the possible bombing of the concentration camp in Auschwitz while speaking to the American Israel Public Affairs Committee (AIPAC) at their annual conference in Washington DC, March 5, 2012.
Israeli Prime Minister Benjamin Netanyahu, no stranger to bombast and fearmongering, now appears more determined than ever to incite a large-scale military conflict. The past month has seen the Israeli leader ratcheting up sententious rhetoric and rattling sabers to justify air strikes on Iranian targets in order to sabotage that country's nuclear program.
Netanyahu's penchant for alarmist decrees has been well documented, especially when it comes to the threat of a nuclear-armed Iran.
Netanyahu has been forecasting Iran's ability to obtain nuclear capability since 1992, when hetold the Knesset that, "within three to five years, we can assume that Iran will become autonomous in its ability to develop and produce a nuclear bomb." By 1995, he had slightlyrefined his view on the subject, claiming that "the best estimates at this time place Iran between three and five years away from possessing the prerequisites required for the independent production of nuclear weapons."
Today, he has taken the this threat to a frighteningly dangerous level, and appears at the brink of launching a unilateral military incursion on Iran, with or without the support of the United States, the international community, or the Israeli public.
In order to make his case for war, Netanyahu has taken to a number of different stages in recent weeks, invoking existential threats to Israel, the spectre of another holocaust and the historic responsibility of Israel to act on its own–despite warnings from other allied nations including the U.S.
In a speech to the American Israel Public Affairs Committee (AIPAC) on March 5, Netanyahu made an explicit parallel between the horrendous mass killings of Jews at Aushwitz and the current nuclear program in Iran. Holding up letters between the World Jewish Congress and the War Department from 1944, which show the refusal of the United States to take military action against the Nazi concentration camp despite pleas from Jewish leaders, Netanyahu proclaimed, "My friends, 2012 is not 1944. Today, we have a state of our own. And the purpose of the Jewish state is to defend Jewish lives and to secure the Jewish future."
While the refusal of the U.S. to enter into military conflict with Germany during WWII to help prevent the Holocaust is a tragic point in history, this use of history to motivate world leaders to endorse war on Iran is a troubling ploy that many Israelis have criticized, with well-known Holocaust scholar Yehuda Bauer calling it "sheer nonsense."
This is not the first time that Netanyahu has compared the Iranian regime to Nazi Germany. In 2006, Netanyahu similarly claimed (this time with an opposite metaphor): "It's 1938 and Iran is Germany. And Iran is racing to arm itself with atomic bombs…(and) preparing another Holocaust."
In his speech to the Knesset on March 14, Netanyahu extended this approach of using his own readings of history as analogies to the present situation in order to gain support for war. He cited three examples in which past leaders of Israel have shrugged off warnings from American presidents and taken action without U.S. approval: the Israeli declaration of independence in 1948, the beginning of the Six Day War in 1967 and the 1981 bombing of a nuclear reactor in Iraq. These parallels, intended to make the case that Israel does not require American support to attack Iran, have been largely debunked, including by Haaretz editor-in-chief Aluf Benn.
If Netanyahu has made up his mind that the standoff with Iran has reached a tipping point requiring unilateral military action by Israel, he is in short company amongst the Israeli public:Only 19% of Israelis support such strikes. In fact, a new campaign called Israel Loves Iran, aimed at building solidarity between the citizenry of the two countries and preventing any military strikes, is now gaining steam.
On the other hand, it has been reported that a majority of members on Israel's security cabinetdo now support the country taking preemptive military action against Iran.
With such a rubber stamp for war apparently being offered by this cabinet, Netanyahu appears to now be in the uncomfortable position of determining whether to follow through on his provocative rhetoric without public approval. If he does, he risks a potentially devastating response from Tehran and further alienation of his country from the international community.
Enter Gaza, which earlier this month saw the deadliest violence since the Israeli offensive in December 2008.
In his Knesset speech, Netanyahu made clear that he sees no daylight between the Iranian threat to Israel and that of Gaza:
"Gaza equals Iran. Where do the missiles come from? From Iran. Where does the money come from? From Iran. Who trains the terrorists? Iran. Who builds the infrastructure? Iran…Who gives the orders? Iran. Gaza is a forward operating base for Iran."

"Our enemies must know that, at the end of the day, Israel will not accept an Iranian base in Gaza. Sooner or later, Iran's terror base in Gaza will be uprooted."
Israel's targeted assassination on March 9 of Zuhair al-Qaisi, the Secretary General of the Popular Resistance Committees in the Gaza Strip along with his son-in law sparked cross-border violence in which at least 26 Palestinians were killed and 80 wounded by Israeli airstrikes. Four Israelis were also wounded by rocket fire from Palestinian militants. A number of commentators havealready posited, based on Netanyahu's remarks, that Gaza is being used by Israel as a proxy battlefield for Iran. Of course Israel has a long history of military engagement with Gaza, but this recent round of attacks was markedly different in that Hamas denied direct involvement in the retaliation against the assassinations of Gazans (and has ruled out military support for Iran in any conflict with Israel), but rather the primary source of rocket fire was reportedly from Islamic Jihad, a group with strong Iranian ties. Ali Younes writes in Al-Arabiya:
The Israeli air strikes were most likely intended to draw the Palestinian groups into military confrontation in order to test its newly installed Iron Dome anti-rocket missile defense system and measure the Palestinian military response. What makes this scenario more plausible is that Hamas has declared last week that it will not intervene in the event of war between Iran and Israel.

"To have its war against Iran, Israel…needs to test fire its Iron Dome anti-rocket missile defense system in a real time battle with the Palestinians in Gaza.
Israeli Defense Forces (IDF) have claimed that the Iron Dome anti-missile defense system intercepted over 90 percent of the rocket fire from Gaza during this latest engagement, leading Netanyahu to praise the effectiveness of the system while committing to add additional ID systems in the future.
Testing the country's missile defense system may have been one goal of Israel's recent skirmish in Gaza, but another outcome may have been equally important to Netanyahu's warring aims: presenting Israel as the target and victim of Iranian aggression.
Israeli officials have admitted that the IDF expected significant retaliatory rocket fire as a result of the executions, and have since used this retaliation as evidence of Iran's influence in Gaza and as a means to generate international condemnation of Iran.
Whether this skirmish will serve as a precursor to more large scale Israeli conflict with Gaza remains unclear. Netanyahu's claim that "Iran's terror base in Gaza will be uprooted" appears to signal that his administration is intent on directing further military action on the territory but the vague timeline of "sooner or later" gives little indication of when such action will be taken.
If these recent declarations and the clashes with Gaza are any indication, however, Netanyahu has made a strategic decision to illustrate Israel's willingness and ability to engage in combat and defend itself at the same time his administration is garishly beating the drums over a potential war with Iran, taking the country one step closer to triggering a widespread regional conflict.
(inthesetimes.com / 26.03.2012)