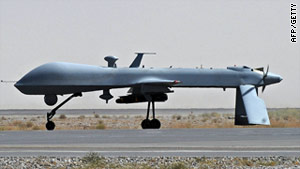 A library picture of a U.S. predator drone similar to the one used in an attack that killed four suspected militants.
Islamabad, Pakistan (CNN) — Four suspected militants were killed in Pakistan on Friday in a suspected U.S. drone strike, intelligence officials told CNN.
Two intelligence officials said the suspected unmanned aircraft fired four missiles on a militant's vehicle in the area of Datta Khel of North Waziristan, one of the seven districts of Pakistan's volatile tribal region bordering Afghanistan.
Drone strikes have been controversial in Pakistan because of concerns over civilian deaths and disrespect for Pakistan's sovereignty.
Based on a count by the CNN Islamabad bureau, Friday's suspected drone strike was the 24th so far this year compared to 111 in all of 2010.
The intelligence officials asked not to be named because they were not authorized to speak to the media.
The strike occurred on the same day at least 80 people died in twin suicide bombings.
The Pakistani Taliban said it carried out the action in retaliation for the killing of terror leader Osama bin Laden.
Nearly all of those slain were military recruits who had just completed their training, a government official said. About 140 others were injured.
(edition.cnn.com / 13.05.2011)