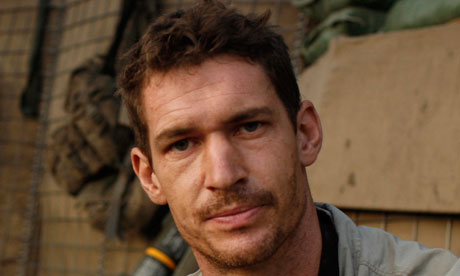 Tim Hetherington co-directed the Sundance-winning film Restrepo
Oscar-nominated documentary maker and photographer Tim Hetherington has been killed covering the escalating violence in the Libyan city of Misrata, and three other western journalists working alongside him have been seriously injured.
Hetherington, 40, the British photographer and co-creator of Sundance-winning documentary Restrepo, was killed in Misrata while covering the fighting on the frontline between Gaddafi's forces and the opposition.
Chris Hondros, 41 – a US Pulitzer prize-winner who works for Getty Images and who took the main picture above – and British photographer Guy Martin, who works for the Panos agency, were critically injured. The fourth photographer injured was reported by the New York Times to be Michael Christopher Brown, although his condition was not said to be life threatening.
Hetherington posted on Twitter on Tuesday: "In besieged Libyan city of Misrata. Indiscriminate shelling by Qaddafi forces. No sign of Nato."
Hetherington is believed to be the first western journalist killed covering the Libyan conflict, bringing the total number to three dead since the uprising began in February. The al-Jazeera cameraman Ali Hassan al-Jaber was killed when fighters ambushed his car as he travelled to Benghazi on 12 March. Mohammad Nabbous, the Libya Alhurra TV reporter, was killed in a firefight seven days later in Benghazi.
According to colleagues at the scene, Hetherington and Hondros were among about eight or 10 journalists reporting from Tripoli Street in Misrata. When shooting broke out Hetherington and the others took shelter against a wall, which was then hit by fire. Rushed to hospital, Hetherington died soon after arrival. Heavy explosions in Misrata continued into the evening.
André Liohn, a colleague who was at the hospital in Misrata, wrote on his Facebook page: "Sad news Tim Hetherington died in Misrata now when covering the front line. Chris Hondros is in a serious status." The death comes as foreign observers, including United Nations officials and press freedom bodies, voice growing concerns over violence against the media in Libya. The Committee to Protect Journalists said about 10 journalists have been killed covering the Arab spring uprisings this year – out of 14 deaths worldwide. The international criminal court warned Libyan authorities about the treatment of journalists in the country. Around 16 journalists are missing in the country, according to ICC prosecutor José Luis Moreno Ocampo.
The UN said that the Libyan government's reported use of cluster munitions and heavy weapons in Misrata may amount to war crimes, which the ICC has said it will investigate.
Liverpool-born Hetherington won numerous awards for his coverage of conflict zones, including Afghanistan, Liberia, and Nigeria. His latest work, the war documentary following a platoon of US troops in Afghanistan, Restrepo, won a prize at the Sundance film festival earlier this year. Hetherington co-directed Restrepo alongside journalist Sebastian Junger.
(www.guardian.co.uk / 20.04.2011)