'There's no clear-cut moment the war is launched, it just gradually expands,' noted one media analyst, who also noted that the mainstream media has largely ignored the expansion of the war on ISIS.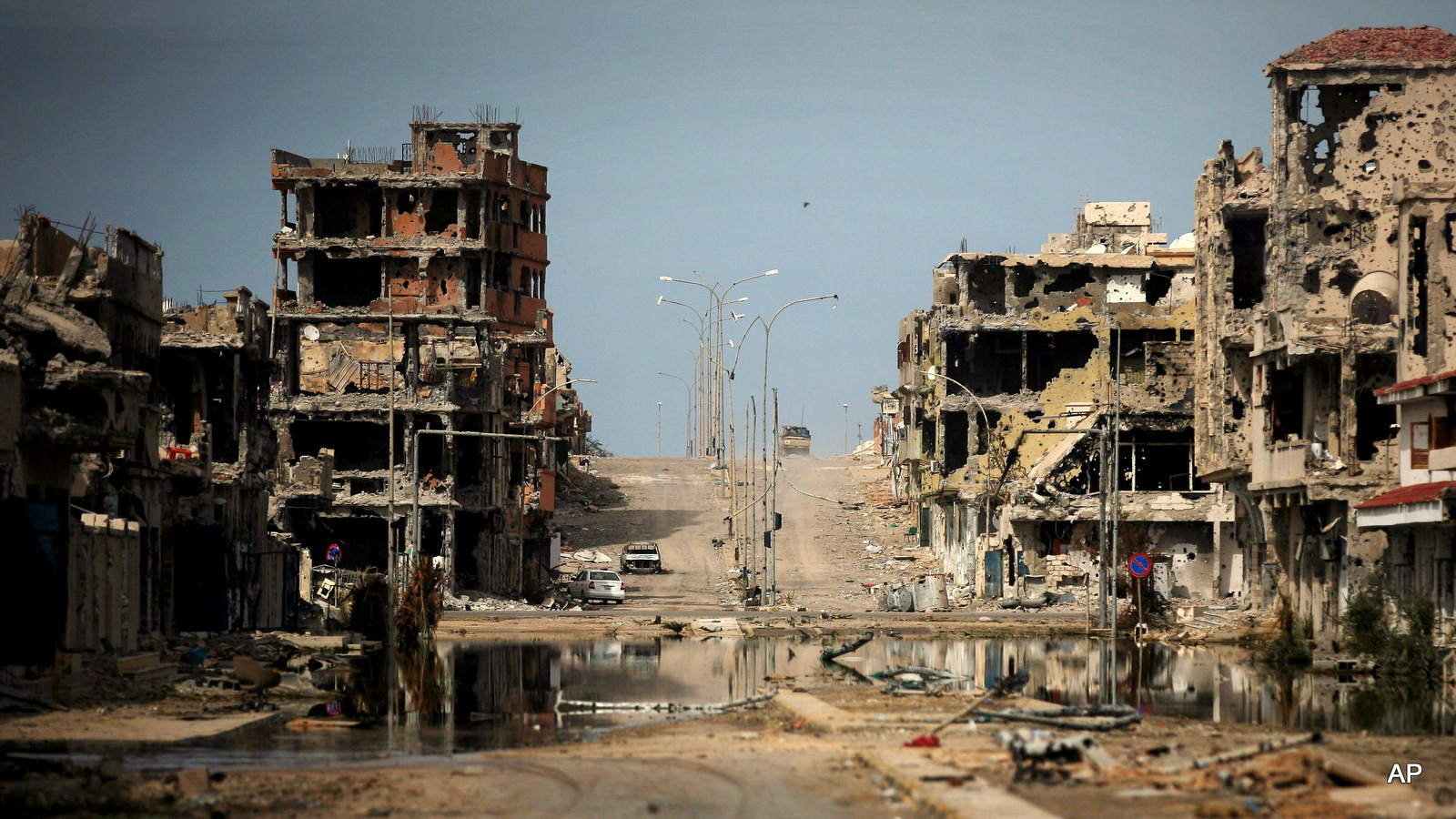 A photo from 2011 shows buildings ravaged by fighting in Sirte, Libya. Islamic State militants have controlled the city since August 2015. The U.S. military has announced ongoing airstrikes against targets in Sirte, and other Libyan cities
WASHINGTON — With little fanfare and minimal media attention, the United States recently began bombing yet another country, further expanding a fight against terrorism that has no clear end in sight.
U.S. airstrikes in Libya began on Aug. 1 with "precision air strikes against ISIL targets in Sirte, Libya," thePentagon announced in a press release. The airstrikes were apparently carried out at the behest of Libya's temporary government, the Libyan Government of National Accord, appointed by the United Nations after theU.S. helped overthrow Libya's ruler, Moammar Gadhafi, under the direction of former Secretary of State Hillary Clinton.
Special forces ground troops, deployed by the U.S. and its Western allies, are also present in Libya. On Tuesday, The Washington Post reported that a "small number" of U.S. and British ground forces are present in Libya, where they are coordinating air strikes and assisting the GNA troops.
Libya is now the fourth front in the American war against Daesh (an Arabic acronym for the terrorist group commonly known in the West as ISIS or ISIL), joining bombing campaigns and ground troops in Syria, Afghanistan and Iraq.
Simultaneously, the U.S. continues arming so-called "moderate" rebels in Syria, and supplying arms and military equipment to Saudi Arabia and Qatar, further fueling unrest throughout the Middle East and North Africa.
The expansion to Libya has been planned for months, according to The Intercept, and has no end in site. According to Pentagon Press Secretary Peter Cook, bombing "would continue as long as [the Libyan government] is requesting them," and the campaign has no "end point at this particular moment in time."
"The U.S. has long planned to spread its military campaign to Libya," reported The Intercept's Alex Emmons on Aug. 1. "In January, Gen. Joseph Dunford, the chairman of the Joint Chiefs of Staff, told reporters that the U.S. was preparing to take 'decisive military action against ISIL' in Libya."
Bombing Syria is based on the same controversial Authorization for Use of Military Force passed after the 9/11 terrorist attacks that have justified the last 15 years of genocidal Middle East warfare, including the United States' other campaigns against Daesh.
Emmons noted:
"The administration has argued that the 2001 AUMF applies to the war against ISIS, even though ISIS and al Qaeda are sworn enemies. Several members of Congress, including Hillary Clinton's running mate Sen. Tim Kaine, D-Va., have argued that the administration should seek congressional authorization to continue its war against ISIS. Such authorizations for the conflict have failed to gain traction in a divided Congress."
But, he added, it's not the first time the U.S. has ignored Congress when it comes to Libya:
"In 2011, the U.S. continued its Libyan campaign even after Congress rejected a resolution to authorize it. The White House even delivered a report to Congress that argued that the U.S.-led bombing campaign did not count as 'hostilities' under the War Powers Resolution. That resolution limits unauthorized conflicts to 180 days."
The United States' apparently endless "War on Terror" seems to have become so commonplace that the media hardly responds when it expands to new fronts, noted Adam H. Johnson, a media analyst from Fairness and Accuracy In Reporting.
"While the air strikes themselves were reported by most major outlets, they were done so in a matter-of-fact way, and only graced the front pages of major American newspapers for one day," Johnson wrote in The Nation on Aug. 5. "The New York Times didn't even find the news important enough to give it a front-page headline, instead relegating it to a quick blurb at the far-bottom corner of the page."
Even alternative media seemed too distracted by the election to take much notice, Johnson added.
Johnson argued that, under President Barack Obama, the expansion of conflict has been made to seem "entirely banal" under what he calls the "frog in boiling water" method of warfare. "There's no clear-cut moment the war is launched, it just gradually expands, and because media are driven by Hollywood narratives, they are victims to the absence of a clear first act," he wrote.
He warned that, without public outcry, Obama's wars are likely to continue to expand through the end of his presidency and beyond.
"This is the new normal, and it's a new normal the press codifies every time it treats Obama's ever-expanding war as dull and barely newsworthy," Johnson concluded.
(Source / 13.08.2016)