Israel has released Palestinian prisoner Samer Issawi, known for his long hunger strike in protest of his incarceration, local media reported.
Issawi was released Monday from Shatta prison in northern Israel and arrived late in the evening in his home village of Issawiya in East Jerusalem, where hundreds of supporters were waiting to welcome him.
In his first televised interview after being freed, Issawi said, "It is our obligation as freedom fighters to free all the Palestinian political prisoners!"
Israeli forces raided his family's home twice just before his release, according to the Jerusalem Post newspaper. On Sunday, Israeli authorities gave notices to Issawi's brother and father, demanding they meet with Israeli intelligence, according to Palestinian news agency Maan.
Maan also reported that during the second raid Monday morning, Israeli intelligence agents accompanied by soldiers told the family they were not allowed to organize any celebrations for Issawi's release.
An Israeli military spokesman did not reply to Al Jazeera's emailed request for comment.
Photos shared on social media, however, showed dozens of well-wishers celebrating Issawi's release in his home village.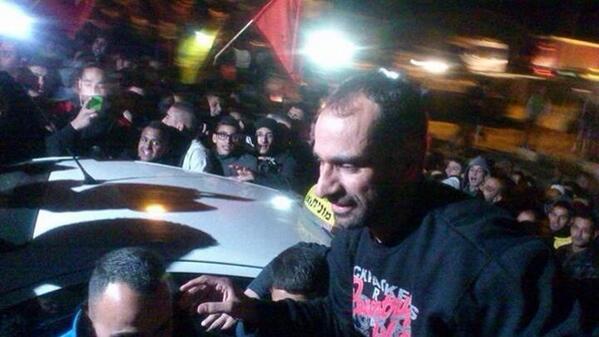 PHOTO: Palestinian hero #SamerIssawi has just arrived home @ village of Issawia in Jerusalem! Welcome home Samer!
According to the Israel Prison Service, Issawi was arrested in April 2002 and sentenced to 26 years for alleged "terrorist" ties and activities during the second intifada.
In October 2011, Issawi and hundreds of other Palestinians were released as part of a prisoner exchange to free captured Israeli soldier Gilad Shalit.
But less than a year later Issawi was rearrested in July for allegedly violating the terms of his release by leaving Jerusalem, his family told Al Jazeera. He had allegedly crossed into a nearby neighborhood that Israeli authorities do not consider part of the Jerusalem municipality.
As punishment, Issawi was told he would have to serve the remainder of his original sentence, 17 years.
Issawi and his family rejected claims that he had violated the release terms, and soon after his arrest Issawi began a hunger strike that gained international attention and put a spotlight on Israel's prison system.
In April, when Issawi had been on hunger strike for about eight months, Israeli authorities told him they would release him if he ended the strike and served an additional eight months, local media reported.
According to Israeli rights group B'Tselem, at the end of October 2013 there were 4,753 Palestinians being held in Israeli prisons as detainees without charge or trial, or as prisoners serving sentences.
(Source / 23.12.2013)