By Engelbert Luitsz        ©              (http://www.alexandrina.nl/?p=2785)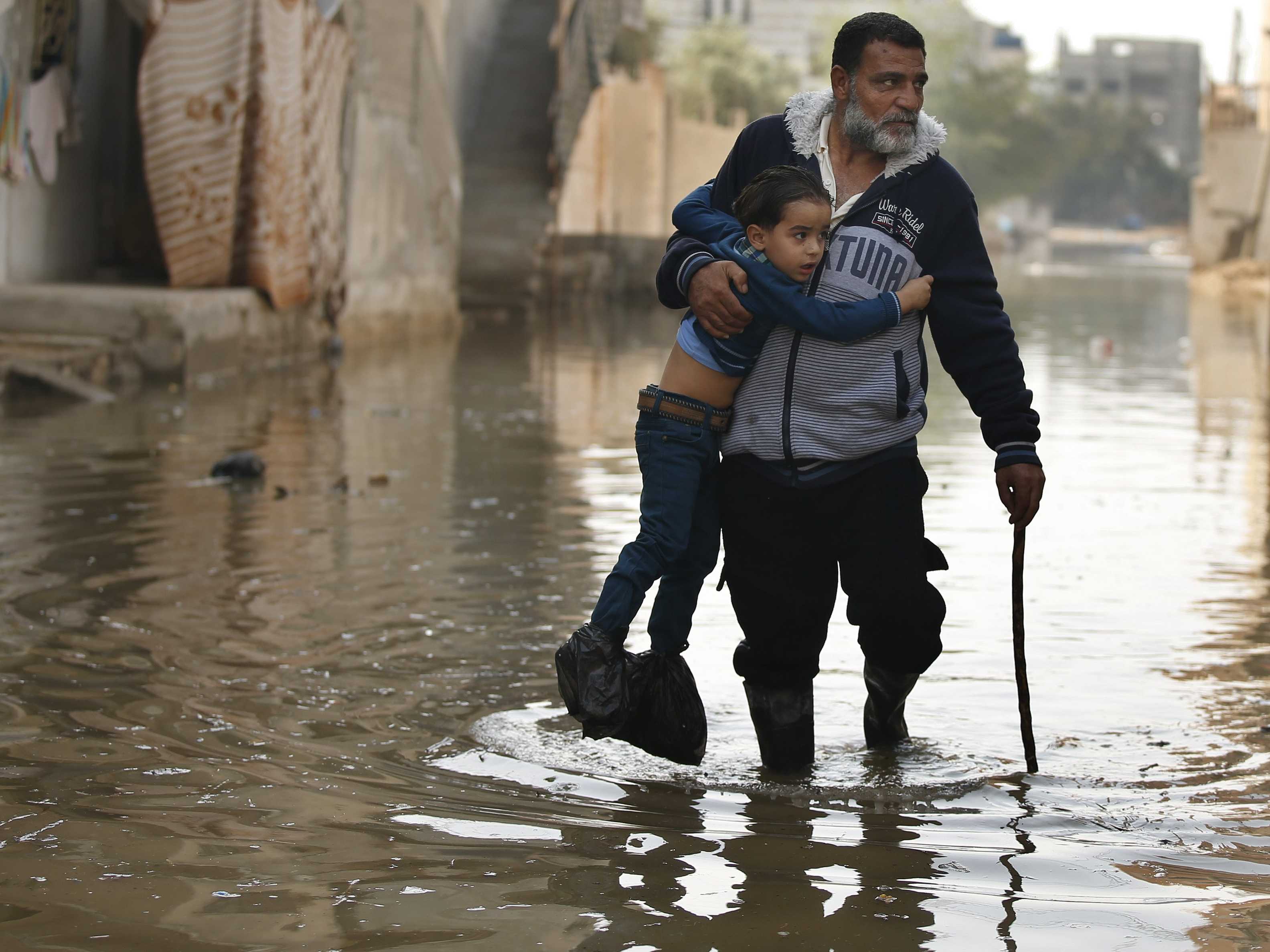 Een vader brengt zijn kind naar school terwijl het rioolwater door de straten stroomt.
Sally Idwedar woont in Gaza Stad. Voor de krant The Independent beschreef ze hoe het op dit moment is om in de Gazastrook te leven. Gaza Stad is nog de "beste" plek daar, ze woont niet in een vluchtelingenkamp. Ze onderschrijft het rapport van de Verenigde Naties dat onlangs gepubliceerd werd en waarin wordt gesteld dat de Gazastrook onbewoonbaar wordt en dat de humanitaire omstandigheden verslechteren.
Ze wordt wakker van de Israëlische sonic booms, een van de middelen die Israël inzet om de bevolking het leven zuur te maken. Al in 2005 schreef The Guardian
Israël gebruikt een afschuwelijke nieuwe tactiek tegen Palestijnse burgers in de Gazastrook door het gebruik van "geluidsbommen" die overal angst veroorzaken, leiden tot miskramen en kinderen traumatiseren.
Daarnaast zijn er vaak beschietingen vanuit zee, waar de oorlogsschepen de strook onder vuur nemen. Zowel de sonic booms als deze beschietingen zijn op geen enkele manier gerelateerd aan een militair doel, ze spelen enkel een rol in het brede spectrum aan mensonterende praktijken die de verdrijving van de Palestijnen tot doel hebben.
Stromend water en elektriciteit zijn een luxe geworden. Al vier weken is de enige elektriciteitscentrale van de Gazastrook buiten werking. Voor die tijd was er zo'n acht uur elektriciteit per dag, nu is dat vier tot zes uur, met vaak blackouts van twaalf tot veertien uur. Sally woont in een flat, dus zelfs als er water is komt het niet boven, omdat de pompen niet werken.
Minstens een derde van de Gazastrook zit altijd zonder stroom. En nu de dagen korter worden is dat uiteraard een veel groter probleem dan in de zomer. Accu's zijn erg duur en gas is ook moeilijk te krijgen, soms staan mensen wel 24 te uur wachten op een paar liter. Het brandstoftekort heeft invloed op de taxi's die door gebrek aan benzine helemaal volgepropt worden om toch zoveel mogelijk mensen mee te kunnen nemen. En mensen hebben zich georganiseerd om in één keer voor heel veel mensen te koken om brandstof uit te sparen. Mensen die niets meer kunnen betalen koken buiten op open vuur met gevonden papier en karton.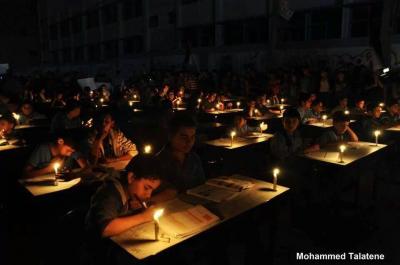 Palestijnse kinderen krijgen les bij kaarslicht.
Afval wordt niet meer opgehaald in de overbevolkte stad. Grote wolken vliegen, wilde katten en honden zwermen om de bergen afval heen. Er worden karren met ezels ingezet om de situatie iets te verbeteren, maar tot nu toe zonder veel succes.
De pompen van de waterzuivering werken niet meer, het rioolwater stroomt de straten in. Ouders dragen hun kinderen naar school en het rioolwater trekt enorme hoeveelheden muggen aan. Er is de angst dat het water de drinkwatervoorziening zal verontreinigen. In het vluchtelingenkamp Al-Shati zijn al veel meldingen van maagklachten. Bij Sally loopt het rioolwater weliswaar nog niet door de straat, maar zij heeft al vier dagen helemaal geen water.
Men is nog steeds bezig om de Israëlische aanval van vorig jaar oktober te verwerken, maar constructiemateriaal wordt niet toegelaten, zodat er nauwelijks iets verbetert aan de situatie. De grens met Egypte is afgesloten, net als de tunnels die voor de noodzakelijke medicijnen, voedsel, brandstof en bouwmaterialen zorgden. En zelfs als de Israëlische grens opengaat wordt daar slechts de helft van de vrachtwagens met hulpgoederen doorgelaten.
De werkloosheid is opgelopen tot 40%, terwijl door de blokkade de prijzen enorm zijn gestegen. En hier bestaat de helft van de bevolking uit kinderen. Anderhalf miljoen mensen worden gestraft omdat ze ongewenst zijn in de joodse staat. De blokkade zou al een onmenselijke situatie zijn, maar Israël doet er nog een schepje bovenop door ze te bestoken met sonic booms, schijnaanvallen met F16′s en granaten vanuit zee. Naast de regelmatige invallen en de periodieke bloedbaden uiteraard.
De Nederlandse regering blijft het allemaal negeren. De media plaatsen af en toe een opiniestukje en vinden het dan ook wel genoeg. En dit is dan alleen nog maar de Gazastrook, niet de cynische zuivering van de West Bank, of het verdrijven van de Bedoeïenen in de Negev-woestijn, of het groeiende racisme in Israël zelf. Laat staan dat ooit het zionisme zelf, de kern van het probleem, ter sprake komt.
Het is eigenlijk te walgelijk voor woorden, maar als je het niet schrijft weet niemand het.
——-
Als extraatje een deel van een documentaire die een goed beeld geeft van wat er nu eigenlijk gebeurt in de Gazastrook. Een Palestijnse boer die zich afvraagt waarom het Israëlische leger alle dieren doodschiet. En waarom zijn ouders, die eerst gedwongen werden hun huis te verlaten, even later alsnog door een Israëlische tank werden gedood. Het zijn geen vragen die gesteld zullen worden tijdens de zakendiners. In een soliede traditie doet Nederland liever zaken met de moordenaars dan met de slachtoffers.
Bij het bekijken van onderstaande documentaire uit 2011 is het moeilijk te geloven dat het nog erger kan. Maar dat kan wel. Sindsdien heeft Israël opnieuw een bloedbad en enorme verwoestingen aangericht in oktober 2012. Sindsdien is er met instemming van Israël een staatsgreep gepleegd in Egypte, waarna de tunnels vernietigd of gesloten werden, de enige levenslijn voor de economie van de Gazastrook. Egypte en Israël verzorgen nu samen de blokkade van het strookje land waarop 1,5 miljoen mensen gevangen zitten sinds 2006.
Binnenkort gaan Rutte, Ploumen en Timmermans op bezoek in het beloofde land om zaken te doen, waarbij ze ongetwijfeld trots herinneringen zullen ophalen uit ons eigen koloniale verleden. Soort zoekt soort.
Gaza, A Virtual Tour of the Gaza Strip
Maurice Jacobsen, 2011
http://www.youtube.com/watch?feature=player_embedded&v=oq-enFV5gXw